Acai bowls have been trending for some time now – it seems like a new acai bowl spot is opening up every other week in LA. If you've never had an acai bowl before – you're missing out. They are so. damn. delicious. My good friend and photographer, Lauren, got me totally hooked on making homemade acai bowls. We made these last weekend and I immediately bought the ingredients (all available at Trader Joe's!), and have been making them practically every day since then. This really is one easy acai bowl recipe! If you've ever been intimidated by the thought of making a homemade acai bowl, trust me when I say it is actually super simple.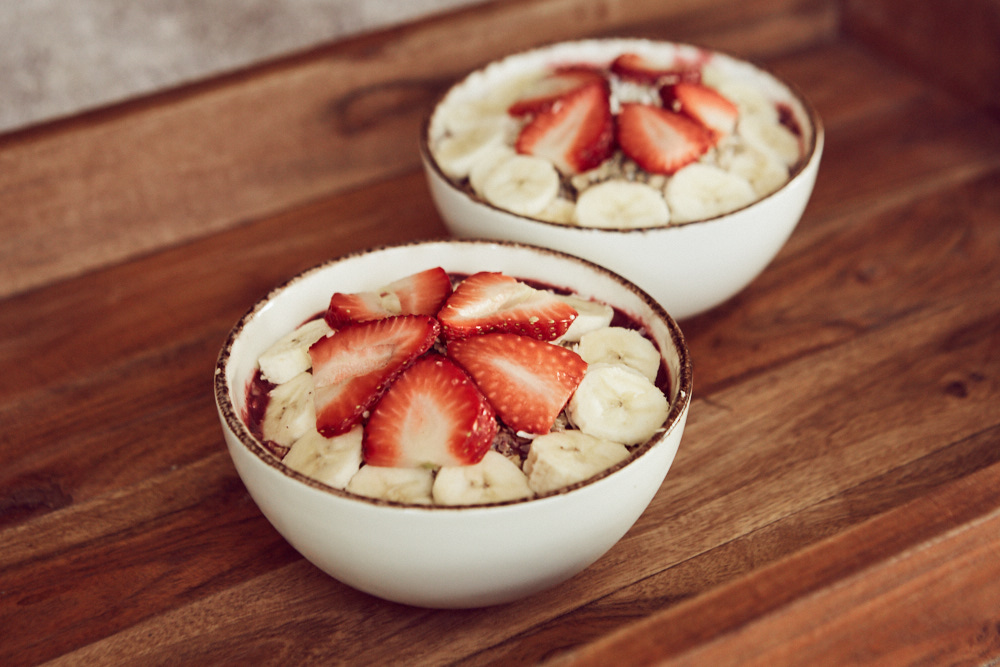 What is acai?
Acai is a popular tropical fruit from Brazil. In the US it is widely available as a puree, which has led to the popularity of acai bowls. Typically consumed in a smoothie or a bowl, acai makes a delicious, quick, and healthy breakfast or snack.
Are acai bowls healthy?
Acai itself is a superfood – filled to the brim with antioxidants! Acai berries are believed to improve skin, digestion, your heart health, and boost your immune system.
BUT – it is important to note that the actual health factor of acai bowls are somewhat mixed. The acai puree itself can contain sugar (when buying frozen packets, be sure to look for ones with no added sugars or additional ingredients other than acai!), and once you add in all of the fruit, juice, and granola, you're looking at a breakfast that is very high in sugar. Even if it's natural sugar, it's something to be aware of. So while you might think you're having a "healthy" breakfast, once you load it up with toppings, acai bowls can be high in calories and sugar!
One of my health goals for the year was to consume less sugar – so that is something that I have to be aware of when crafting my bowl. With that said, I still absolutely love acai bowls and am so excited to share Lauren's recipe with you – she seriously has it down to a science!!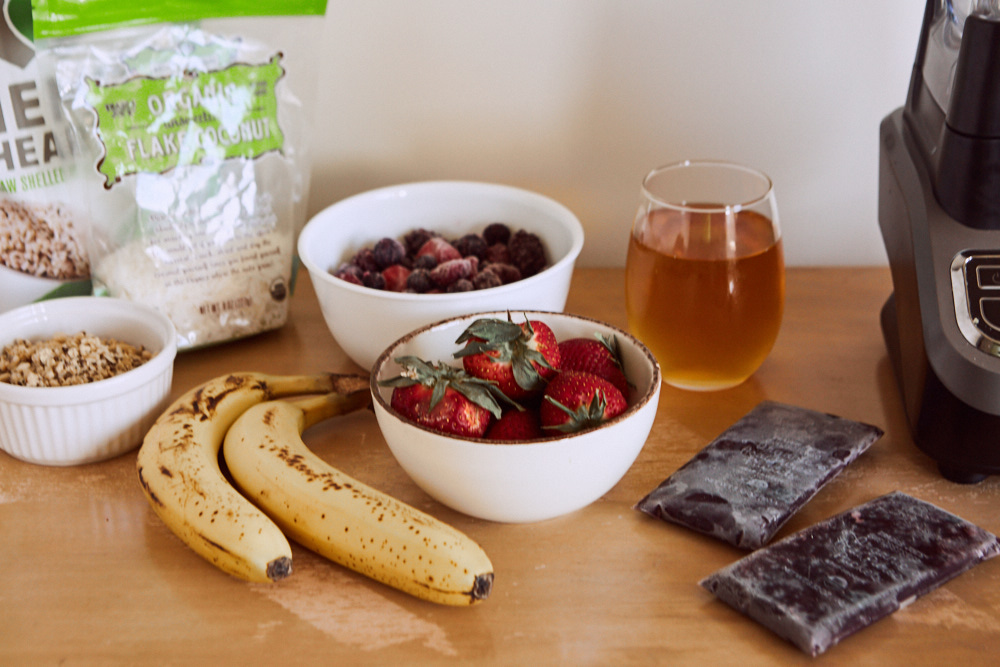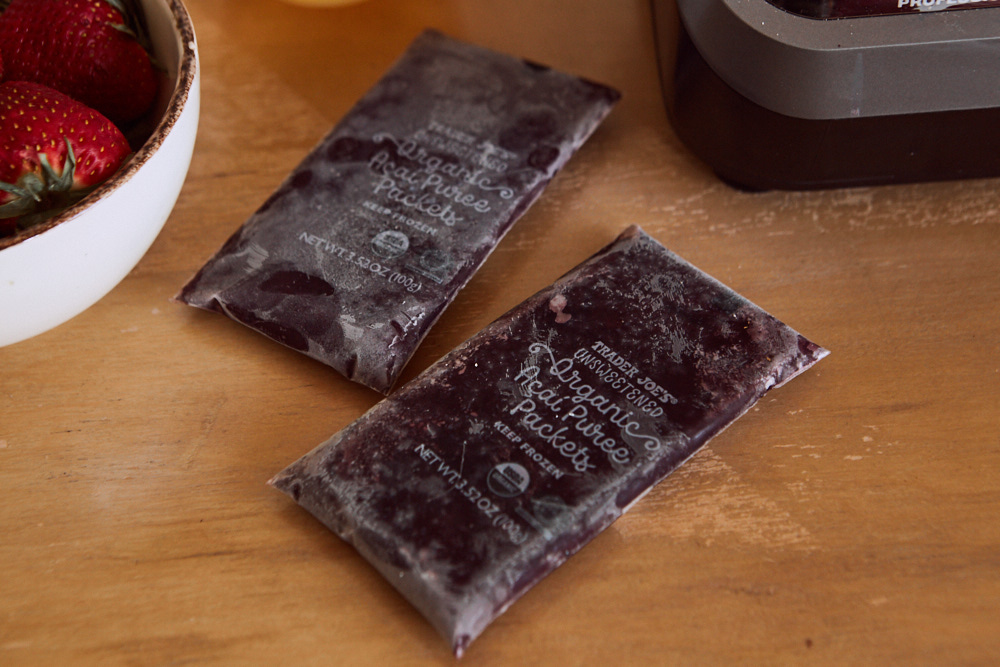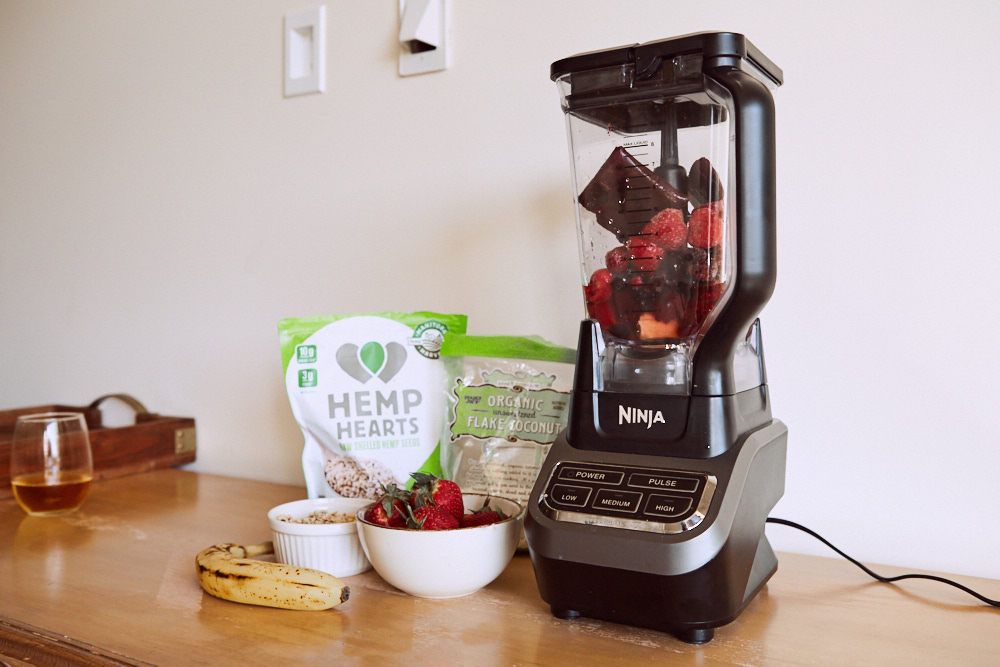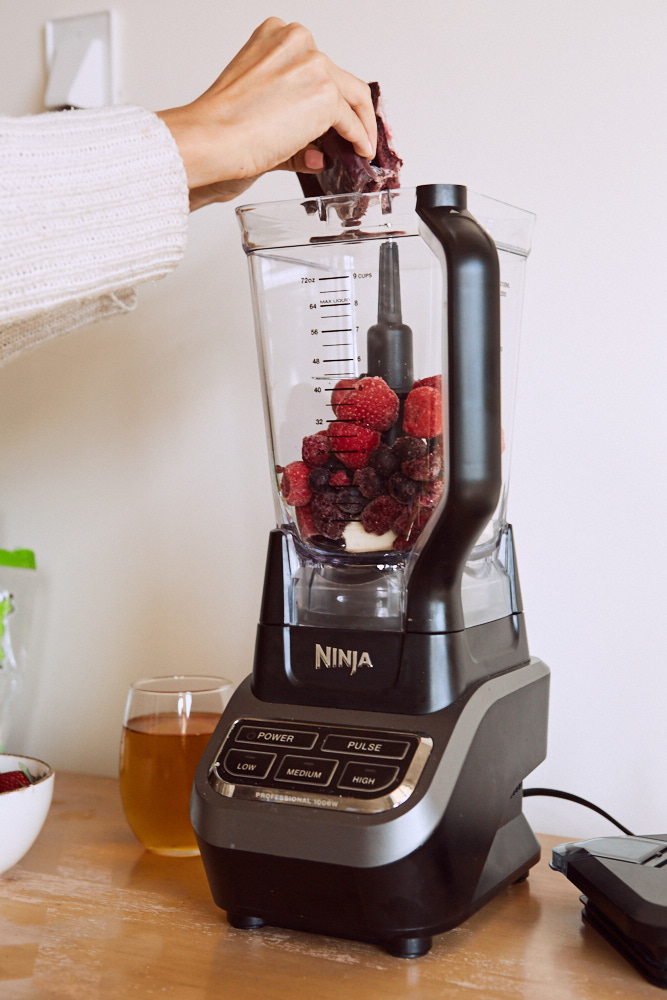 Easy Acai Bowl Ingredients
1 packet frozen acai puree
1 cup all-natural apple juice (make sure apple is the ONLY ingredient! No added sugar or preservatives)
1 cup frozen berries
1 banana
Topping ideas: fresh berries, sliced banana, mango, bee pollen, granola, hemp seed, shaved coconut, honey
Blend frozen acai, frozen fruit, banana, and apple juice together until desired consistency (depends on how thick you like your acai bowls – I like mine thick). Pour into a bowl and top with your favorite toppings. My favorite combination is bananas, strawberries, blueberries, granola, bee pollen, and a little honey drizzle.
Optional add ins to the acai include: protein powder, all natural almond butter, spinach, coconut milk, almond milk, mango, pineapple. Make it your own! Enjoy anytime – breakfast, lunch, snack, or dinner : ).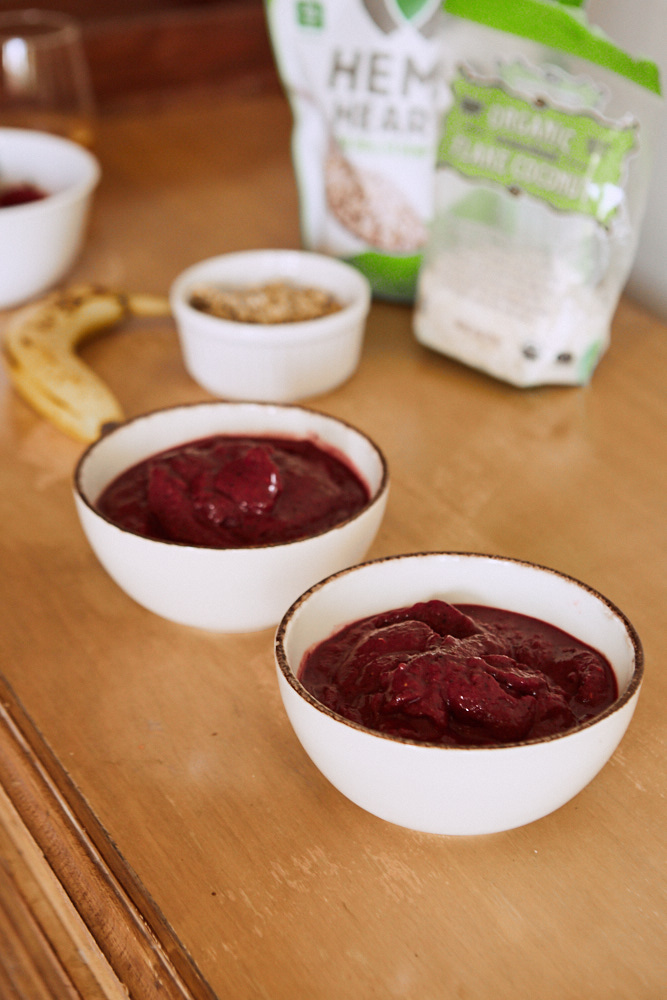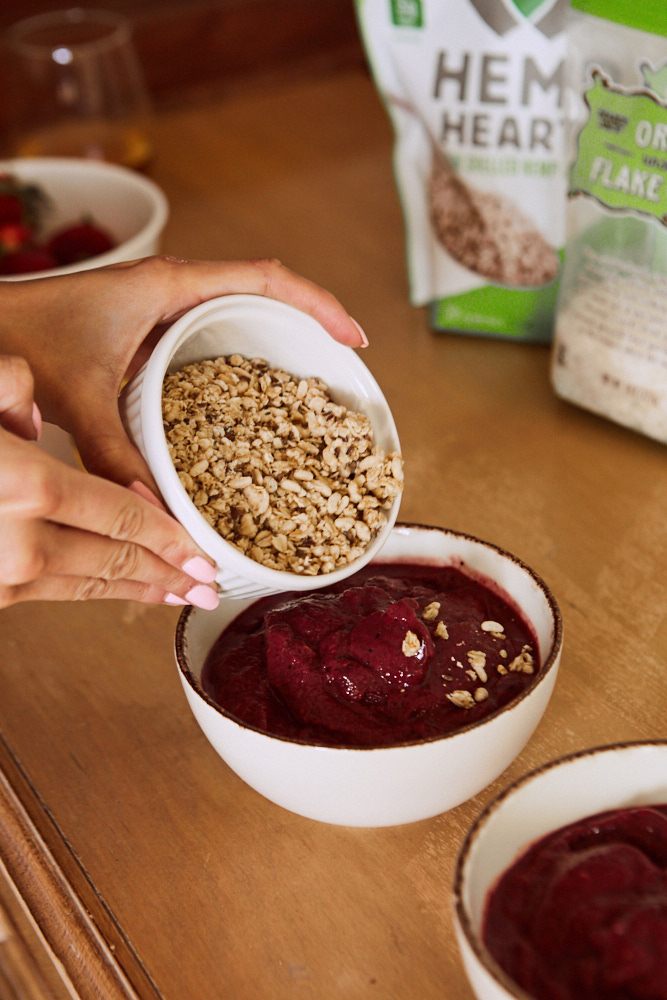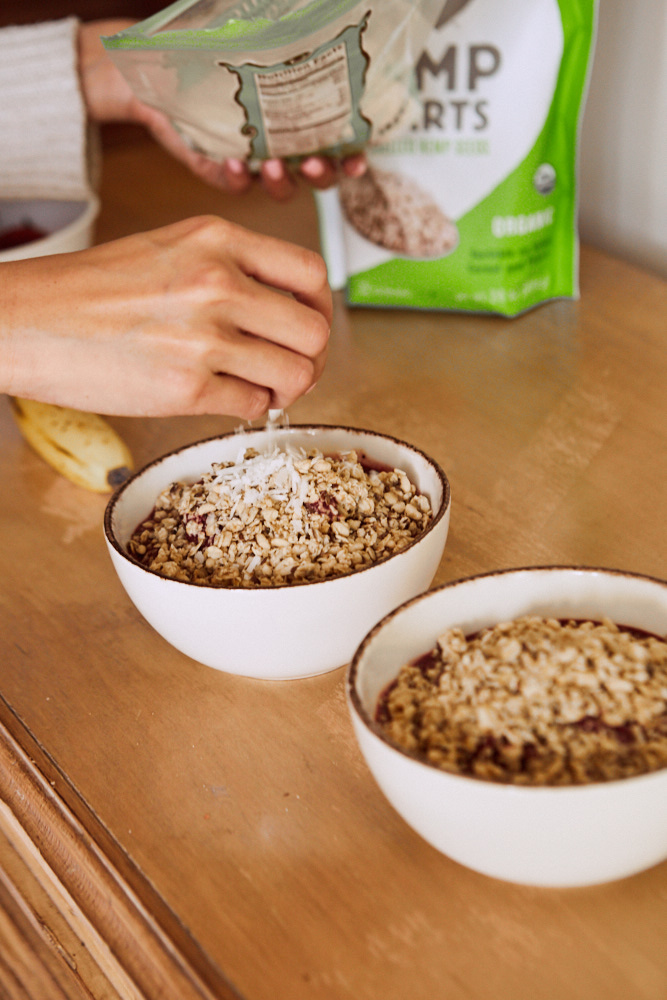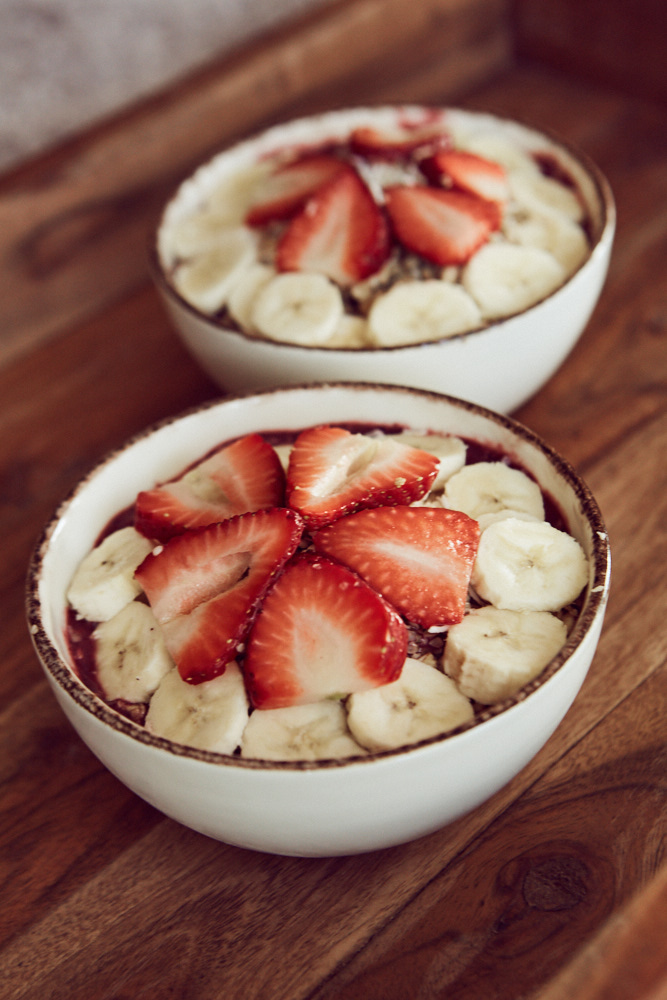 photos by Lauren Alexandra Photography