You guys, Coachella is in a week (!!) and you could say I still have so much to do to get ready.
I decided to go pretty last minute and have given almost zero thought to planning. If you're going to festivals this summer and aren't sure what to wear, be sure to check out this post. One thing I do have down? My festival bag. When you're going to be in the sun all day, you gotta be prepared.
Of course, you could run around all day and night without anything in your bag (maybe you don't have a bag at all!) and be totally fine. But… I like to be ready for anything. So here's what's in my festival bag – all the essentials.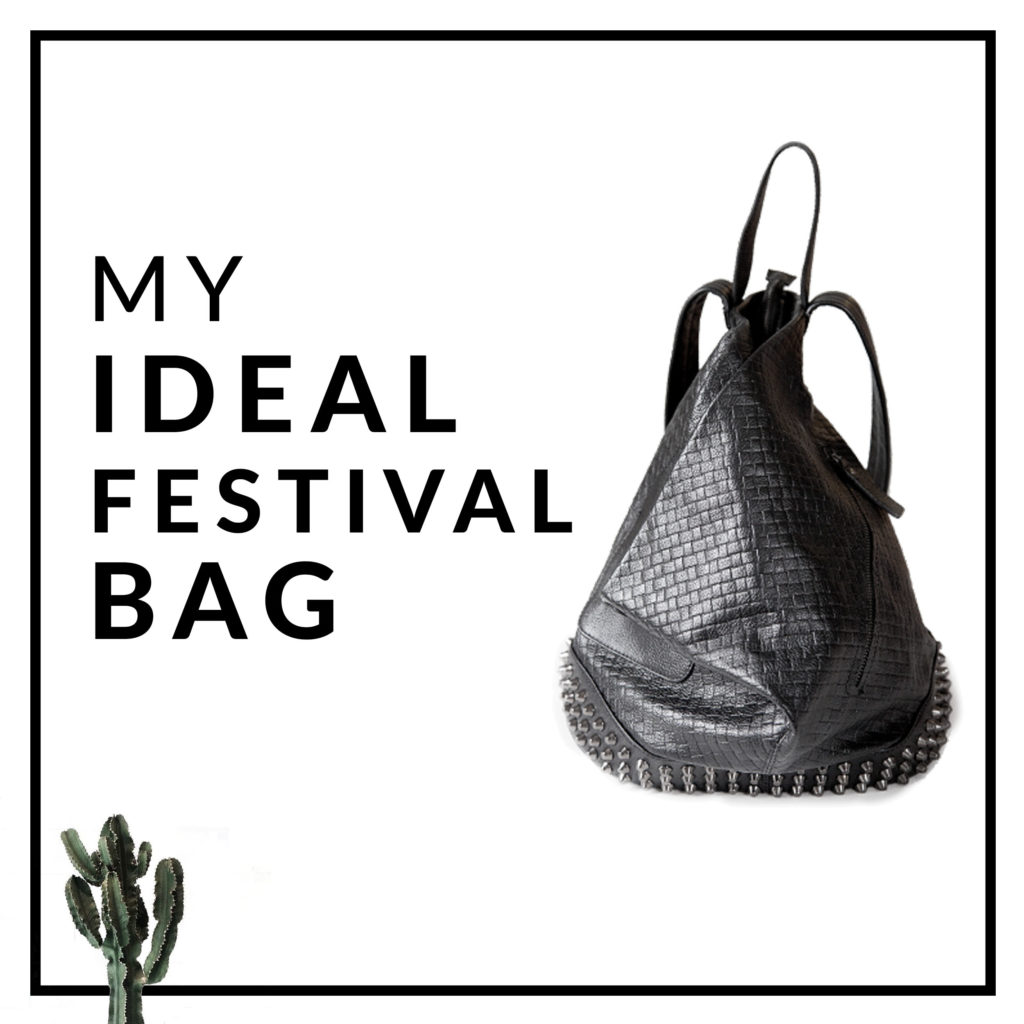 LEATHER BACKPACK:
First things first, you need the perfect bag. When it comes to festivals, I always bring a backpack. This way you can simultaneously be hands free and carry more than you would be able to in a small cross body. Total win. There are so many cute backpacks available right now, so you really have no excuse not to bring one.
I love this one from Sticks + Stones (a newer brand and if you haven't heard of it, you need to check it out ASAP!). Sticks + Stones has the ultimate festival accessories – you can bet I'll be bringing my backpack to Coachella and incorporating this necklace and cuff into an outfit.
SUNSCREEN:
This is a MUST. If you're going to roam the desert with only two things, my recommendation would be water and SUNSCREEN. Sunscreen is 100% a must. As I get older, I am wayyy less about sun and getting a tan, and all about preventative skincare. If I'm going for some color, I'll go reach for the bottle or a good spray tan. For everyday sun protection, I alternate between Supergoop! and Kiehl's. Reallyyyyy trying to avoid getting more sunspots and wrinkles here. A big hat makes a huge difference as well!

SUNGLASSES:
Ok – so everyone has these sunnies. But you know why? Because they look good on everyone. The round shape is super flattering on every face shape, and they go with every outfit. I'll def be packing these in my bag. Loving statement sunnies for festivals as well – I just scooped up this rad pair from Sunday Somewhere and cannot stop wearing them.
MOPHIE:
Not the end of the world if your phone dies at a festival, but the last thing you want is to lose your friends or sit at a charging station for phone juice. Mophies have a come a LONG WAY. This newest model is way less clunky and gets the job done. Document all (or none) of your festival experiences and never worry about running out of battery.

DRY SHAMPOO:
Festival or not, this spray is a holy grail product. This term is not thrown around lightly. If you're only going to use one hair product, ever, it should be this dry texturizing spray. When you're outside all day, your hair is going to get dirty anyway, but this spray does it all. It adds the right amount of texture, keeps it fresh, and smells divine. Get a travel size bottle for all your getaways and thank me later.

Keep your festival makeup light and simple. Think: tinted moisturizer, brows, mascara. Or if I want a little more, some glitter if I'm feeling really festive. But I avoid the heavy contour and layering of products. Simple is better, you're in the sun and likely sweating all day so it'll come off anyway. A natural glow is the perfect touch – this all-in-one product is your best bet to give a subtle highlight and keep your look minimal and fresh. Dab onto the top of your cheeks, your brow bones, and any other spot you want to gently highlight and accentuate.
If you have any other questions on what to bring along in your festival bag, LMK in the comments below and I'll make sure to get you covered!
xx, Amy