Hostess with the Mostess: How to Make An Eye-Catching (and Delicious!) Cheese Board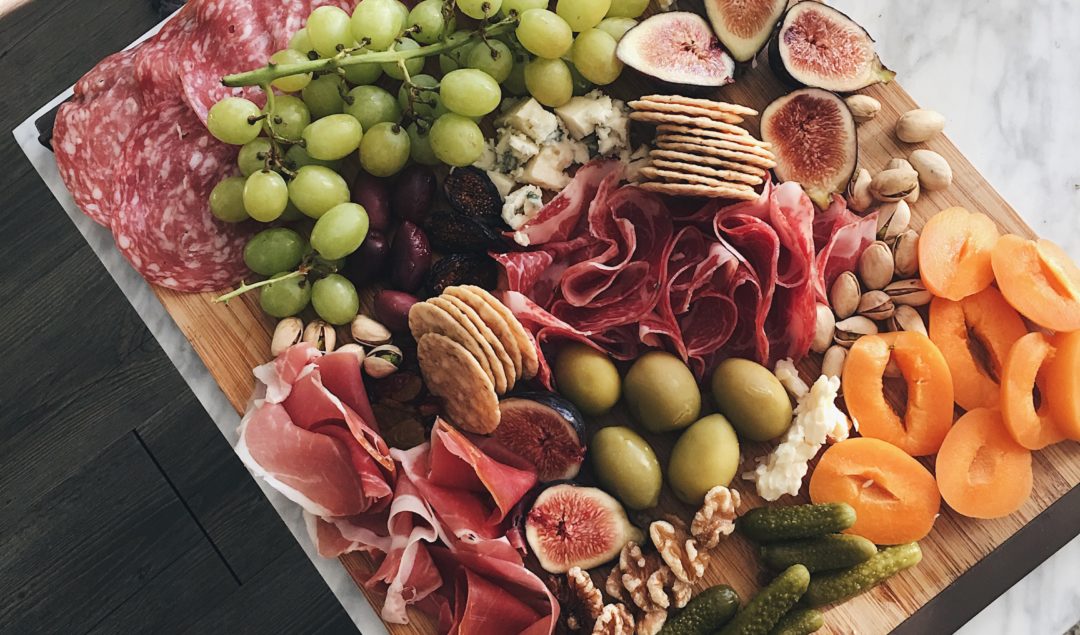 Hosting or attending an event this weekend? Not sure what to make or bring? Every hostess knows an appetizer board is not only a real crowd pleaser, it's also ridiculously simple and requires no actual cooking. If you're short on time or not the best in the kitchen, there's no easier way to trick your guests into thinking you're domestic AF than by making the perfect cheese board. Learning how to make the perfect cheese board is easier than you think, trust me.
Cheese and charcuterie or raw vegetables (crudités if you want to be fancy) artfully arranged on a board look impressive and require very little prep time. Not to mention, your guests will most likely love it (and devour it). It's a win-win for everyone and a must have at your next gathering. Whether you're hosting or attending a party, a cheese board is an easy way to contribute while doing minimal work. Which in my book, is a huge win!
If you follow me on Instagram, you might already know I have been LOVING cheese/charcuterie/crudité boards lately and making them at every chance I get. They are a staple whenever we have people over at our apartment – it's easy to see why when you learn how easy they are to prep and assemble, and how much our visitors love them!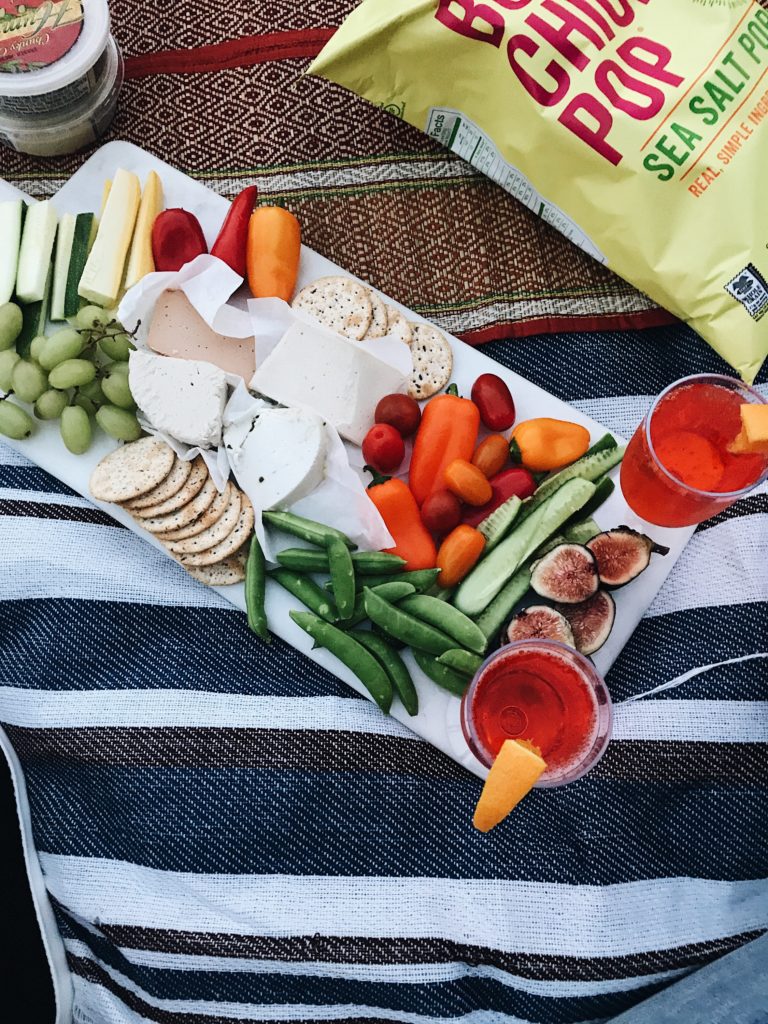 Here's how to make the perfect cheese board
 + First, decide what's going on it. Are you sticking to strictly cheese? Is a cheese and charcuterie board? Or maybe you're adding some raw vegetables? The general rule of thumb for a cheese board is 3 different types – one hard, one soft, one goat. In my opinion, this is a rule that is meant to be broken! I usually like to have a soft cheese (brie, camembert), a hard cheese (gruyere, comte), and a spreadable goat cheese (Trader Joe's has amazing goat cheese logs!). But I also like to include a good cheddar, gouda, or something different that comes recommended to me. Be sure to experiment to figure out what types of cheeses you like and want on your plate.
+ Are you adding meat? If so, hit up your local deli counter for different cuts of cured meats. If you're feeling adventurous, consider adding a pâté or mousse.
+ For your vegetarian/vegan friends – did you know there is actually VEGAN cheese? If you live in LA I highly recommend Vromage for your vegan cheeses. These nut-base cheeses are made in house by the owner who happens to be the sweetest man, and they honestly taste closer to real cheese than anything I've had before. Go there!!! Otherwise, if you want to include your vegan friends on the action, consider adding crudité and fresh fruits.
+ Examples of raw vegetables for a crudité plate: zucchini and squash (sliced long and thin), carrots, mini tomatoes, broccoli, cauliflower, radish. The possibilities are endless! Don't forget the dips – homemade or store bought are both great. We usually have a hummus (vegan option) and tzatziki (non vegan option) on hand.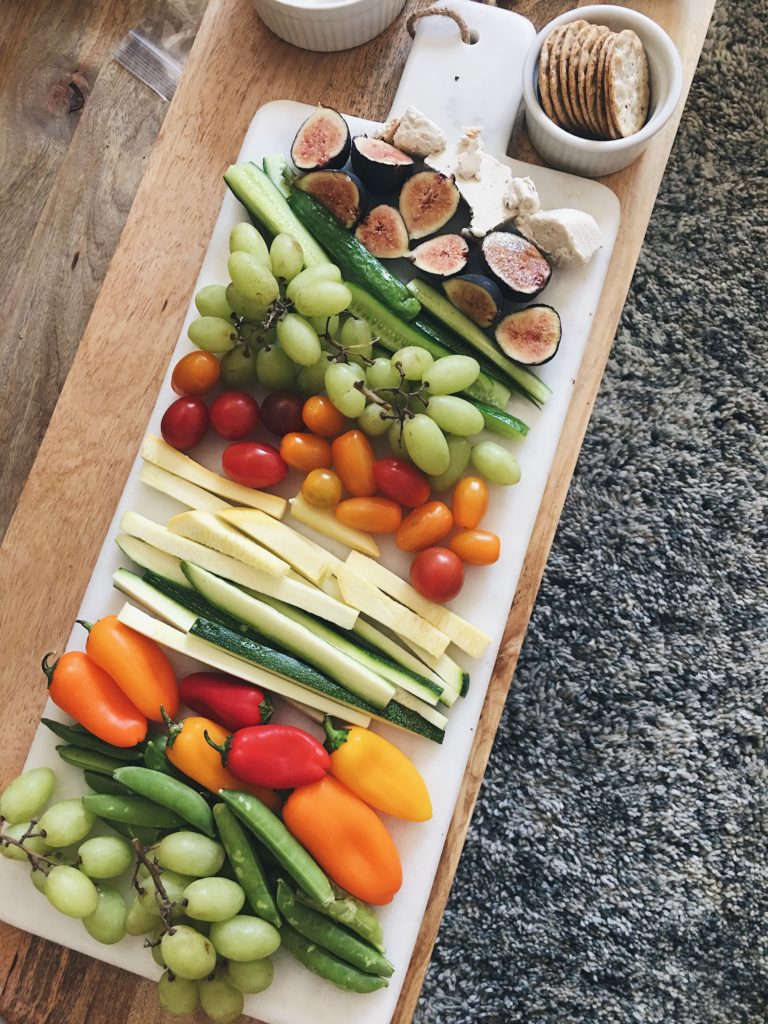 + Think of extras to add – fruit, jams, and different flavors. Think outside the box! It's your board to play with – add whatever flavors you think work well with the ingredients you have on hand. Honey, fig jam, and various mustards tend to be popular for cheese and charcuterie plates. For fruits, I like to add grapes, apple or pear slices, figs, berries, or apricots. I always keep some dried fruits and nuts in my pantry as well.
+ Don't forget the bread and crackers! You can never go wrong with a baguette or whatever small crackers you of your choosing. Long breadsticks are a nice touch as well!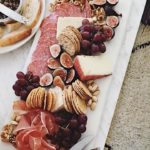 + Make sure you have the right board on hand. Consider how large your gathering is and how many people are attending and choose the size of the board you use based on that. I bought a beautiful long marble board from William Sonoma – initially I thought it would be too large but it has been the perfect size for everything I've made so far!
+ Assembly is everything! You could just throw everything on the board and call it a day, but what's the fun in that? Take some time to visualize a pattern and arrange all of the ingredients on the board in a visually pleasing and cohesive way.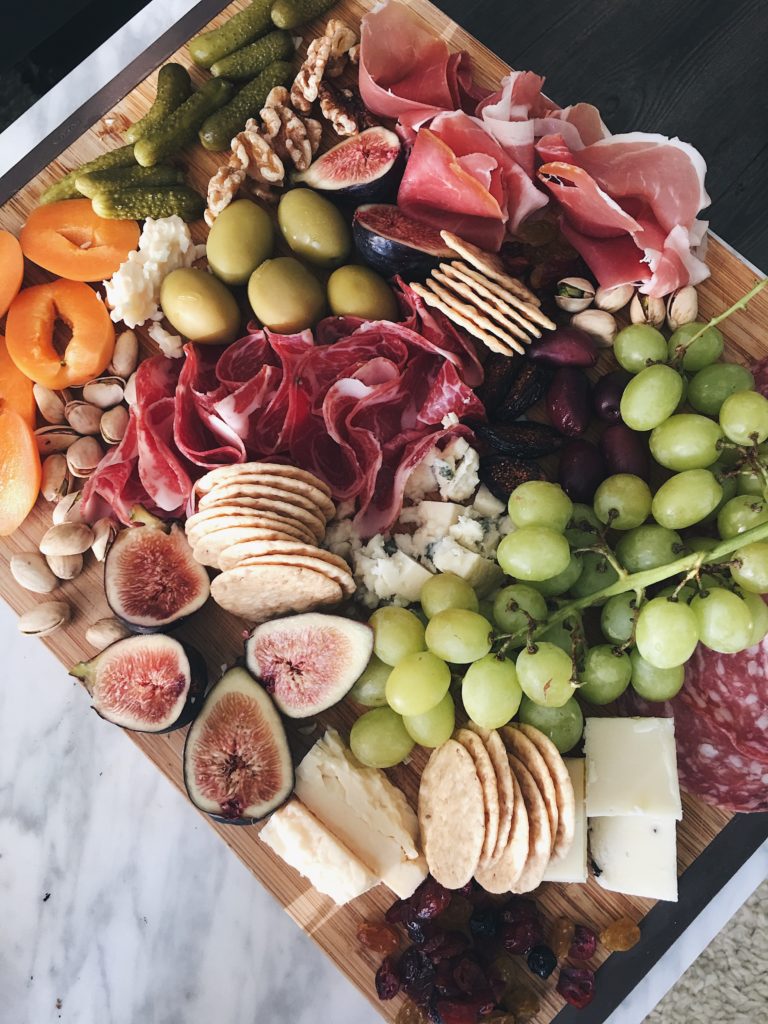 + Enjoy the fruits of your labor! I love appetizer boards not only because of the easy assembly, but because they are tasty and relatively healthy appetizer options (especially if you have lots of fruits and vegetables highlighted!).
+ Always keep extra ingredients on hand – make sure veggies are pre sliced so they are ready to go!
+ Be sure to provide serving plates, napkins, and the appropriate cutlery. Cheese knives are not necessary but add a fun touch (they make a great hostess gift as well!)
Doesn't hurt to have some wine on hand either ; ).
Bon appetit!