What to Wear to a Music Festival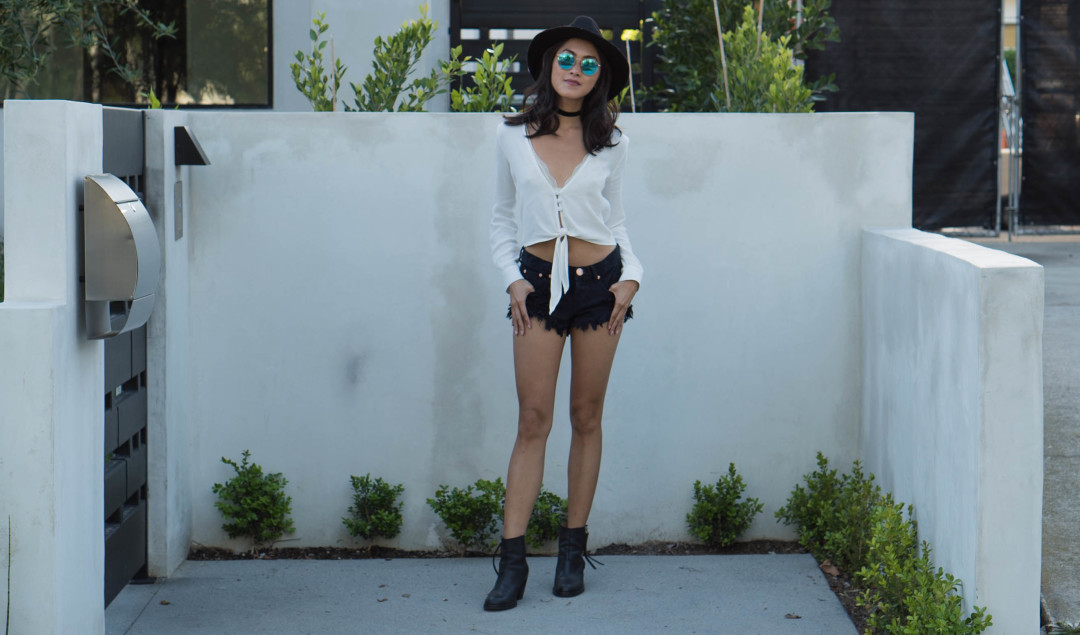 Coachella is officially one month away and I have festival style on my mind. Which is why this post is so important, we are all wondering what to wear to a music festival, how to style it, & where to actually get the outfit. In recent years festival style has blown up and at this point I'm sure we are all ready for the overload of crochet, fringe, and flower crowns. While some outfits are best left in the desert, for the most part I love festival style and find myself inspired by it – I love incorporating bohemian touches into my everyday outfits. I love the carefree vibes of music festivals and of course, let's not forget about the music ; ).
See what to wear to a music festival + my festival outfit tips below – at the end of the day, you may be camping outdoors or in the middle of harsh terrain (the desert) so it's important to make attire choices that are both cute and practical.
Ideal Music Festival Outfits:
Rompers: I love rompers – they're so, so easy. One piece and you're done getting dressed – perfect for running around all day. A word of caution, though – you will have to take the whole thing off every time you go to the bathroom, which can be a pain (do NOT try pulling it to the side, you will have disastrous results)

Two Piece Sets: Yes, please to matching sets! Or, the romper's more bathroom friendly cousin. You can wear together if you're feeling matchy-matchy, or mix and match with other pieces in your closet. Super versatile and comfortable. Pick one in a breathable fabric that will keep you cool during the day. Bodysuits are also great if you can find a matching skirt or pair of shorts. For more on bodysuits, see how to wear a bodysuit.

Tops: Crop tops, off the shoulder tops, and bodysuit get my vote. Look for pieces that don't need to be adjusted often – you want to be able to dance around all day without having to fix your outfit constantly.

Maxi skirts & dresses: Nothing makes me feel more like a gypsy fairy princess than a silky, flowy maxi. Pair a skirt with a crop top for a stylish look that won't drag you down. 

Shoes: I prefer to stick to closed toe shoes – it's so easy to get your toes stepped on when there are so many people around you, and nothing will ruin your mood more quickly than walking around with bruised feet. Sneakers are by far the most comfortable shoe choice – you don't even realize how much you end up walking by the end of the weekend. I like booties as well, although I would avoid anything with a noticeable heel. And of course, you can't forget about sandals – a fierce pair of gladiators will make any outfit.  

Accessories: A floppy hat will always make an outfit – and they are a particularly great idea for days when you're going to be in the sun all day. Of course you'll be wearing sunscreen (!!) but that extra layer of protection from the sun for your face will be a lifesaver – no one wants to deal with a peeling sunburn in the middle of a music festival. 
As for sunglasses, leave your designer pairs at home and pick up a cheap pair or two that you won't mind losing or breaking. Have fun with round, embellished, or mirrored lenses! 
Add finishing touches to your outfit with jewelry, body jewels, glitter, and Flash Tats! Keep a bandana handy as well to tie around your neck or use as a face mask when the dust kicks up.

Are you going to any festivals this year? I'd love to hear your thoughts on what to wear!
xx, Amy