Why You Need a Mentor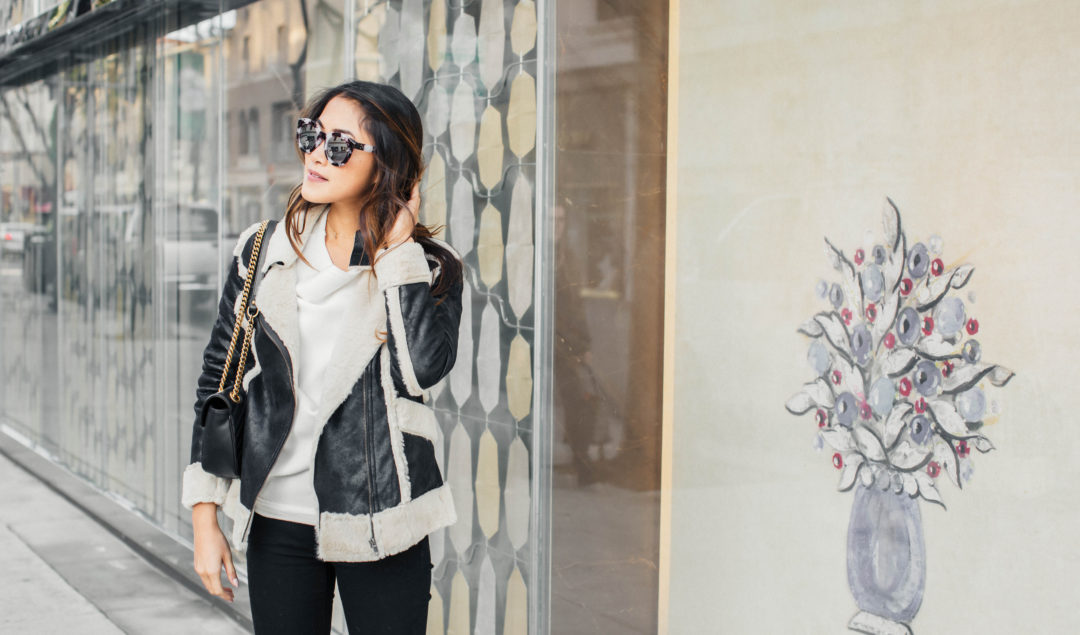 Happy Friday, babes! Can I just say I am ready for the weekend?! And it's a long one too, yay! I wanted to introduce some new topics into the blog – I don't blog full time, and I figured it's about time I introduce the other side of my life (the one that takes up the majority of my week) into the blog. I want to start talking about issues that every career gal encounters, regardless of your profession. Today I want to talk about something that has been on my mind a lot lately. The end of 2016 and start of the new year had everyone all like "new year, new me" – tons of reflecting and goal setting for the new year – I LOVE that kind of energy. One thing that I've been coming across a lot lately is the topic of mentorship. So let's talk about it, and get into why you need a mentor.
My 9-5 is in a corporate setting. I sit at a desk, have lots of meetings, and think and talk about climbing the corporate ladder a lot. In this environment, the term "mentor" is thrown around a lot. But regardless of whether you sit in an office or freelance from home, if you're looking to make moves and grow, you need a mentor. Something I've obsessed: every successful person has had help. You don't get to where you are without a little help along the way.
So now you're probably thinking: what exactly is a mentor, and where do I find one?
A mentor is someone you trust that can help guide and advise you as you go through your professional journey. They don't necessarily have to be older, but they often are. They're in a position to teach, challenge, and support you by sharing their life experiences, knowledge, and networks. These are people that have found success in their own lives and want to see you succeed in yours. They have a vested interest in your growth and success and provide the resources and support you need to get to where you want to be. They don't do all the work for you, but they do help you become the best version of yourself and face challenges in your career head on. It's like having a coach, cheerleader, teacher, and friend all in one. If it sounds too good to be true, it's not. It comes down to finding the right person.
As Sheryl Sandberg talks about in her book Lean In, you don't find a mentor by going up to someone and asking them to be your mentor. I'm not the biggest fan of networking, but there are similar ties to networking. It has to develop organically and feel right to both parties. More often than not, someone who wants to be your mentor will ask you and offer to play that role in your life.
Begin by thinking of qualities and attributes you admire and respect. Make a list if it helps. Then begin to look for these qualities in the people that are already in your network. Try to identify them in people you may not know. Go to events, make introductions, meet as many people as possible. When you meet someone that you admire and respect, be sure to introduce yourself and exchange contact information. But here's the most important thing – follow up.
You'd be surprised how many people want to help others and offer up their knowledge and experiences. Giving back feels good, and at a certain point in your life it becomes one the most rewarding part of your career. The problem is most people don't follow up. Sounds so silly but it's true. I remember when I was recruiting for my first full time job out of college, I was always told to collect business cards at networking events and send a thank you email after. Whenever I had an interview, I was taught to always send a thank you email. Did the recruiter actually read the email? Probably not. Did they always remember who I was? Maybe. The point is, I followed up.
Fast forward a couple years when I began helping out with recruiting at my consulting job and now where I still help with recruiting for my new team. We speak to so many candidates and it continues to boggle my mind how many people do not follow up. It doesn't hurt to send an email to thank someone for their time or ask if you can take them to coffee/lunch. The worst thing that could happen is… they don't respond. Not a big deal at all.
To sum it all up: meet people. Find the ones you look up to and connect with. Follow up with them. Let relationships grow organically. Surround yourself with people that are positive and lift you up, and embody the qualities you wish to have and the lead the lives you wish to live yourself.
Happy Weekend, babes! Talk soon.
xx, Amy
Outfit deets below: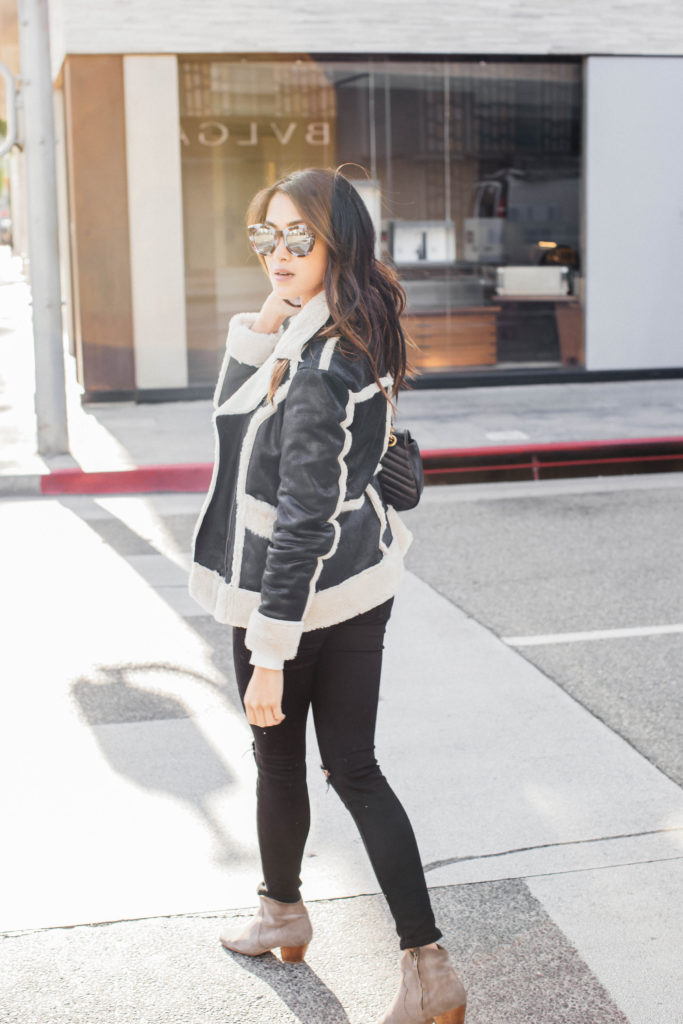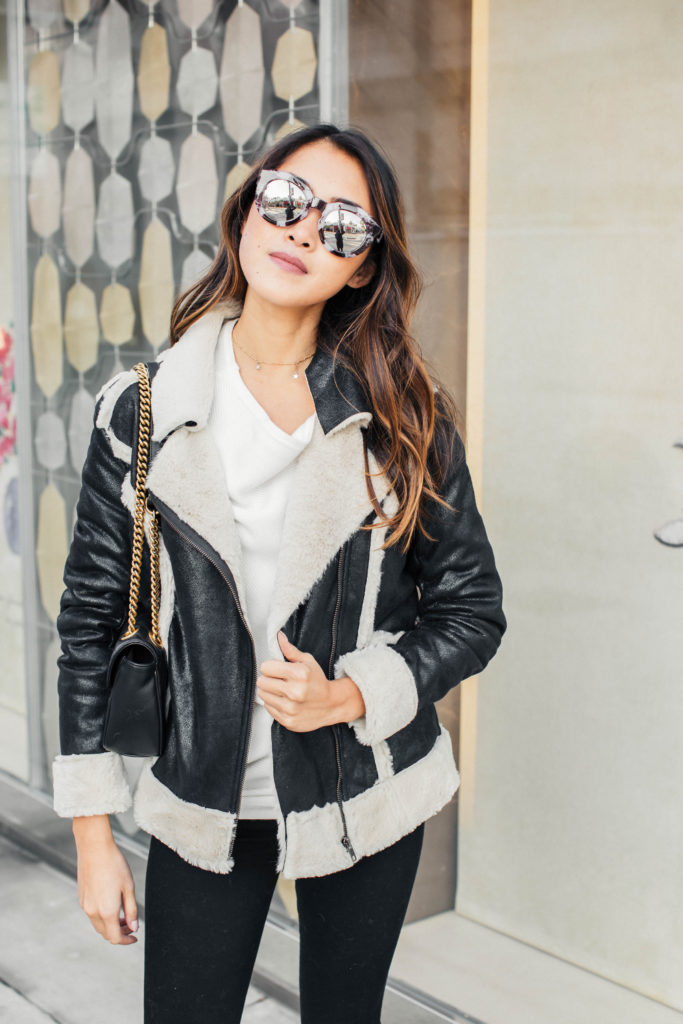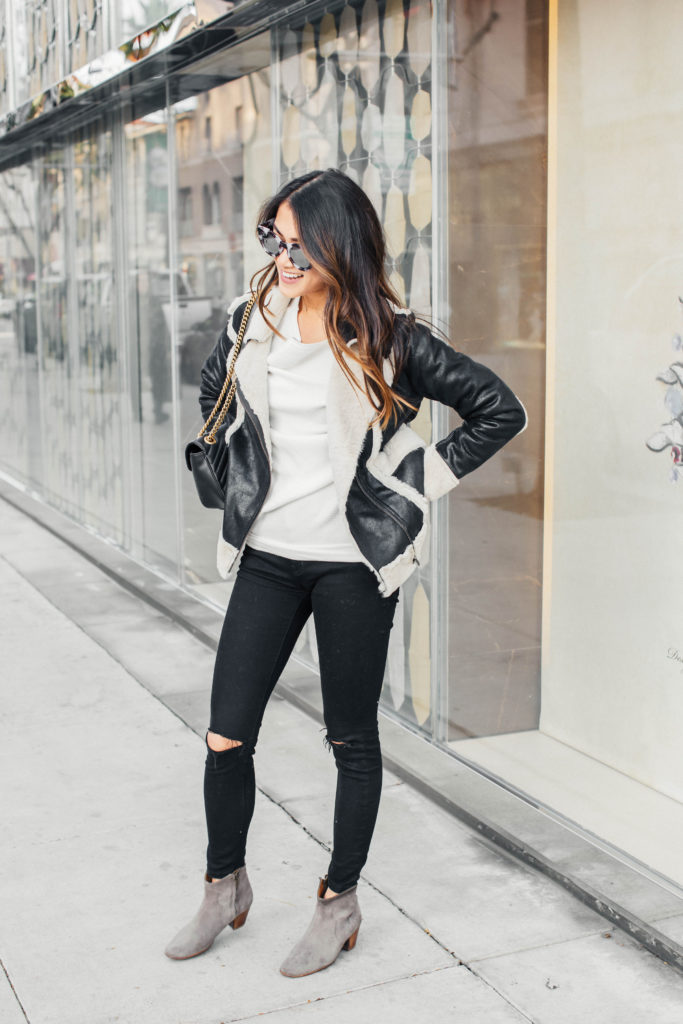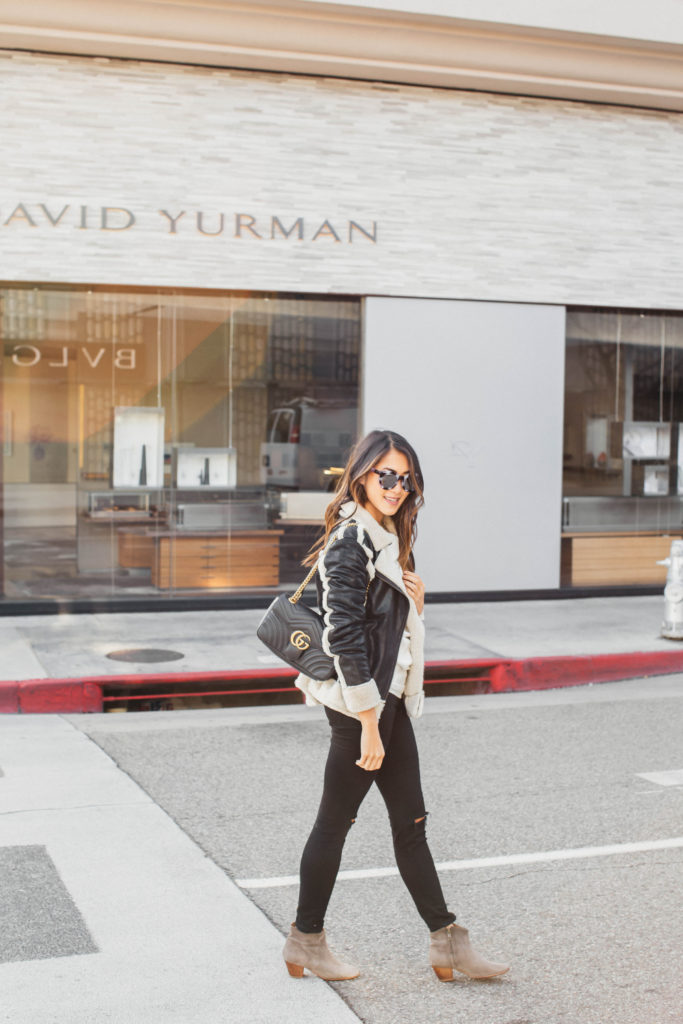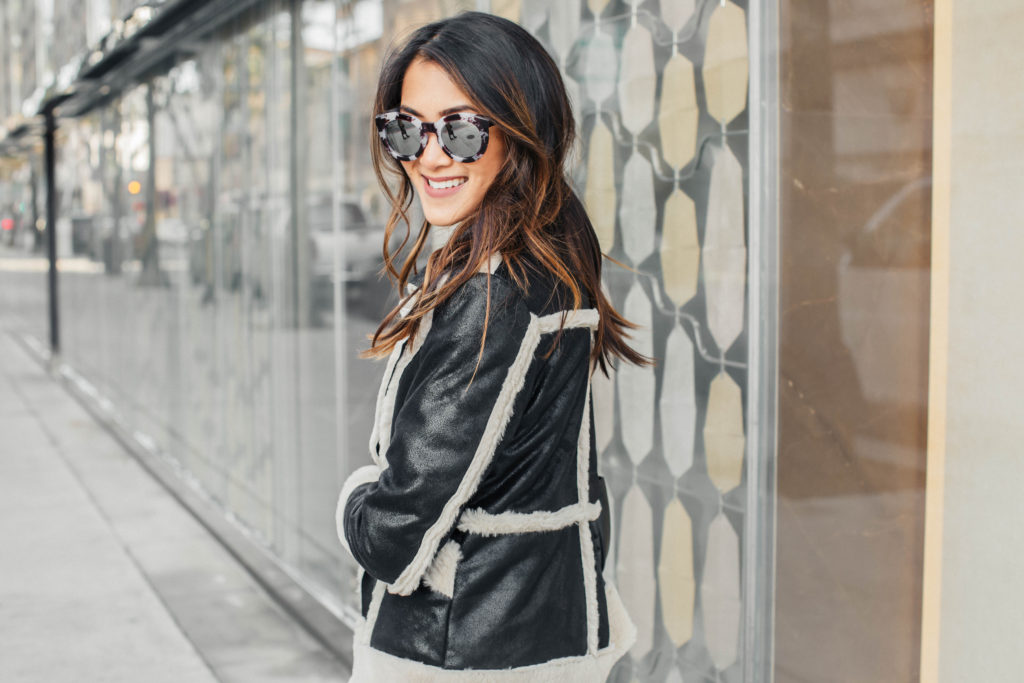 If you don't have a moto shearling jacket yet, you need on in your closet! The one I'm wearing in the photos is from Minkpink, but other great alternatives can be found here, here, and here. Happy shopping babes!
jacket: similar | sweater: similar | jeans: current/elliott
sunnies: yhf | bag: gucci | shoes: isabel marant