A New Way of Taking Your Vitamins with Care/of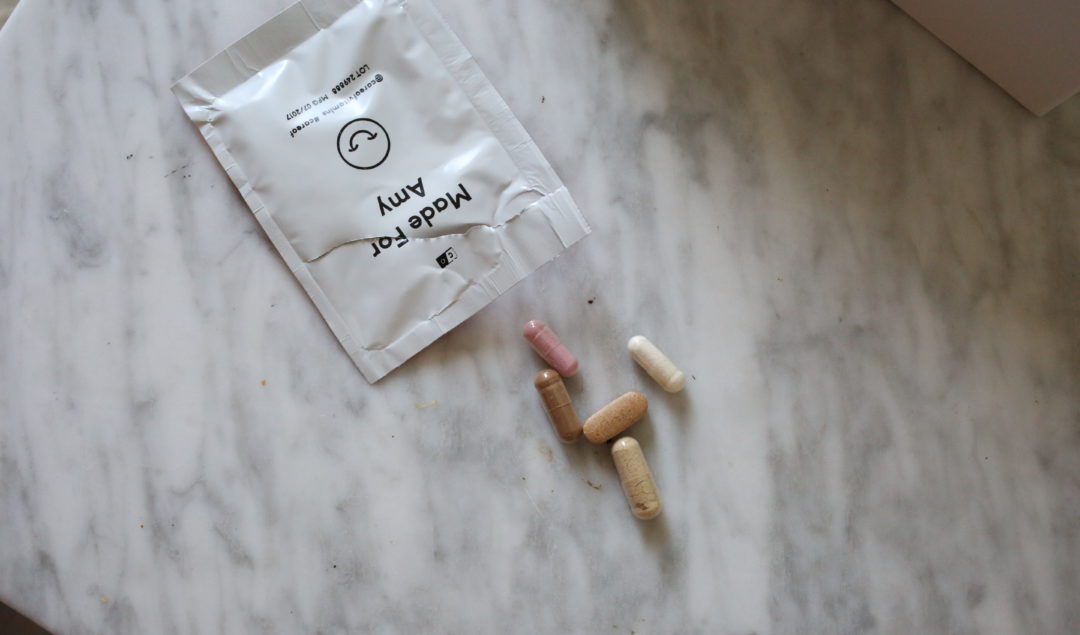 All too often, we hear about the importance of taking vitamins. But with most things in life, consistency is key. I can't even begin to tell you how many half full bottles of different vitamins and minerals are laying around my apartment. Many of which are probably way past their expiration date. It's too easy to read an article about some hot new supplement you need to take, and thanks to one-click shopping and my Prime membership, get a package on my doorstep in two days.
Typically, what ends up happening is this: I get excited, take previously mentioned supplement for a week, and then forget about it. With that sort of behavior, it's no wonder I never really saw any benefits from most of the vitamins I was taking! However, recently I tried Care/of, a new service designed to help make taking your vitamins fun and easy and couldn't wait to share with you guys.
[ Full disclosure, this post is not sponsored – Care/of was kind enough to offer and send me a month of vitamins to try, but I really wanted to share my experience with you guys! ]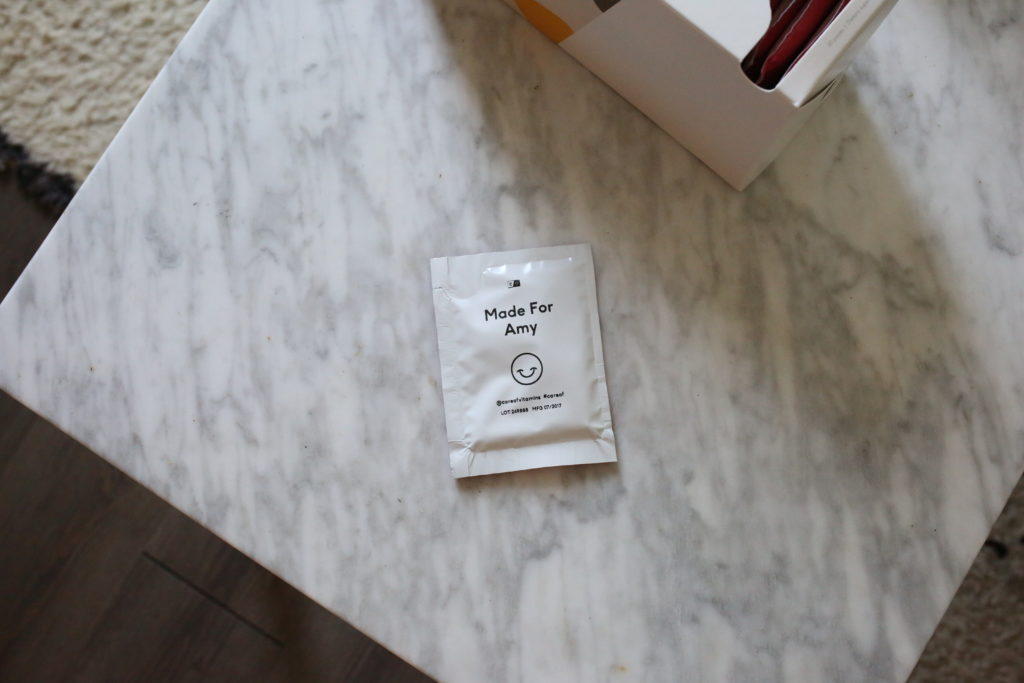 Why should you take vitamins?
First, let's talk about supplements. There's a bit of debate as to whether or not we need to be taking supplements at all. While I agree that it's probably best to get our vitamins and minerals in their natural form through food, the truth is most of us don't get the right amount of everything in our daily diets. Vegans and vegetarians especially. Once you start cutting out certain food groups, it becomes easier to be deficient in certain essential nutrients if you're not careful. Even if you're eating a balanced diet, you may still benefit from taking supplements.
Although health and wellness is something I'm very passionate about, I am fully aware that I'm not a doctor. SO – be sure to talk to one or get their advice before starting a supplement regime! With that said, if you are interested in trying vitamins, you may want to consider a personalized approach by the way of Care/of.
What makes Care/of different?
Care/of asks you questions about your lifestyle, diet, and personal needs in order to determine what supplements may be beneficial to you. They offer a variety of vitamins, minerals, herbs, probiotics, and more. The personalized approach helps you take only the supplements you need, with a wide range of benefits. A lot of the science behind supplements is debatable. Although, Care/of does the work in assembling the research and traditional uses behind all of the supplements available, so you can have the most accurate assessment of the products and read the evidence first hand for yourself.
In addition, Care/of takes the mess and fuss out taking your daily vitamins. They the whole process fun and easy. You get deliveries of a month's worth of vitamins at a time that come in pre-portioned daily packages. So you really have no excuse to skip your vitamins.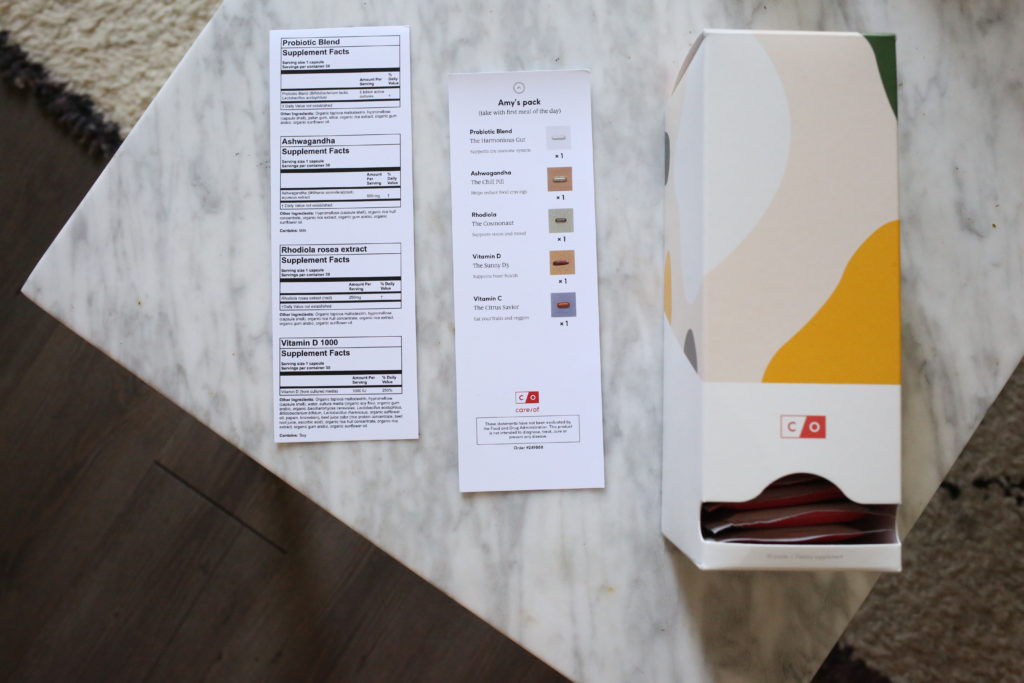 What was in my pack?
Based on my personal assessment, Care/of created a recommend pack of 5 different vitamins. You can also add or subtract other supplements based on your personal needs and preferences (packs range from 2-14 pills/day). Here's what came in my recommended daily vitamin pack:
Digestive enzymes – although I was taking a daily probiotic before anyway, I'm glad I get one in my Care/of package as well. These help keep your gut healthy and happy and help tremendously with digestion and bowel movements. A healthy digestive system is so important for ridding your body of toxins!
Ashwagandha (try saying that 3 times fast!) – this was a new to me and exciting addition to my pack. Ashwagandha is an Ayurvedic herb that is meant to support a healthy stress response. Although I'd like to think that I'm pretty chill, the truth is anxiety and stress can get the best of me at times. Ashwagandha is also known as "Indian Gingseng" and has been used for thousands of years in traditional Indian medicine.
Rhodiola – another herb used to help combat stress and fatigue. Apparently I said I was feeling burned out?! Anyway, this is a traditional Chinese herb that has been shown to relieve stress and promote feelings of well being.
I grew up taking traditional Eastern medicine, so Ayurvedic herbs don't phase me. If you're less sure about these types of supplements, you can totally pass on them!
These two recommended vitamins are much more established in the states.
Vitamin D – even though I live in Southern California, I don't always get enough sun. Did you know a majority of Americans aren't getting enough Vitamin D? Vitamin D is essential for strong and healthy bones!
Vitamin C – supports your immune system!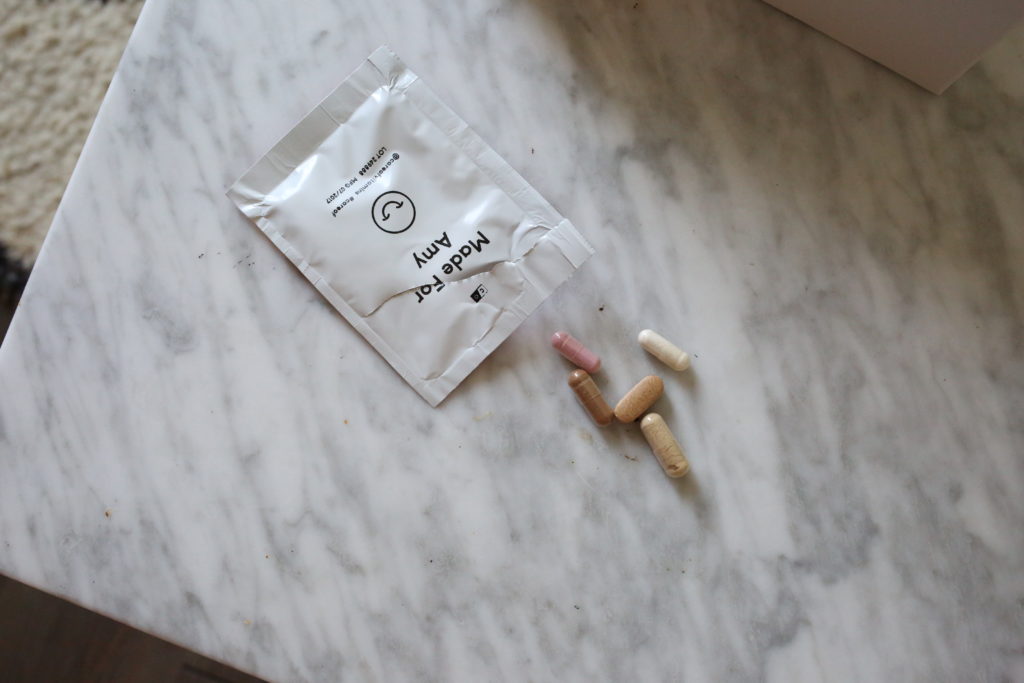 All of this comes to $34/month (just a little over $1 a day). The daily packages are pre-portioned and come in these adorable little pouches. The pouches are personalized with your name on them and are so easy to throw in your bag and go. I've been keeping a couple in my desk at the office in case I forget to grab a pack on my way out in the morning (depending on whether or not I've had coffee, I can be very forgetful!).
Also, V IMPORTANT tip. Always take your vitamins with a meal. I've made the mistake of downing 5 pills in the morning before ingesting any food. It leaves me feeling nauseous and queasy.
Overall, I've really enjoyed my experience with Care/of. I love the convenience of having pre-portioned packages that are easy to carry around with you and dispose of afterwards. Also, I love that I can customize the packets easily.  I can ensure that I am getting the nutrients I need for my body.
If you're interested in trying, Care/of kindly offers a discount code for my readers – use LUXILOOK50 at checkout for 50% off your first month of vitamins.
Would love to hear with you guys think!!
xx, Amy