Let's forget about clothes for a second and talk about skincare. In my opinion, your skin is the most important thing you wear every day! I don't know about you, but the texture and appearance of my skin can help make (or break) how I feel about my appearance any given day. That's why I'm always trying out new products and skincare routines – because I'm all about that skin first motto (thanks, Glossier!). Full disclosure – as a blogger, I receive a lot of makeup and skincare samples from brands to try. There are so many incredible brands and products out there – it's overwhelming! But recently I discovered one on my own, and these products are so good and so affordable. If you haven't heard of the skincare line The Ordinary, you're totally missing out. Here's my honest review.
Review of The Ordinary Skincare Line
I came across The Ordinary on the internet, and instantly became obsessed with their minimalist, no nonsense packaging. But there's more to a product than what meets the eye, so immediately I had to investigate further. What caught my attention next were the names of the products. No cutesy names here – each product was named after the active ingredient inside. No frills, no scents, no fillers – just pure, simple ingredients that are proven to work on skin. On top of that – almost every single product was under $10. I was instantly sold.
Almost everything on The Ordinary's website was sold out or waitlisted for months, so I figured the rest of the internet had to be onto something. I waited patiently for a few simple serums before biting the bullet when the majority of the line became available on Sephora.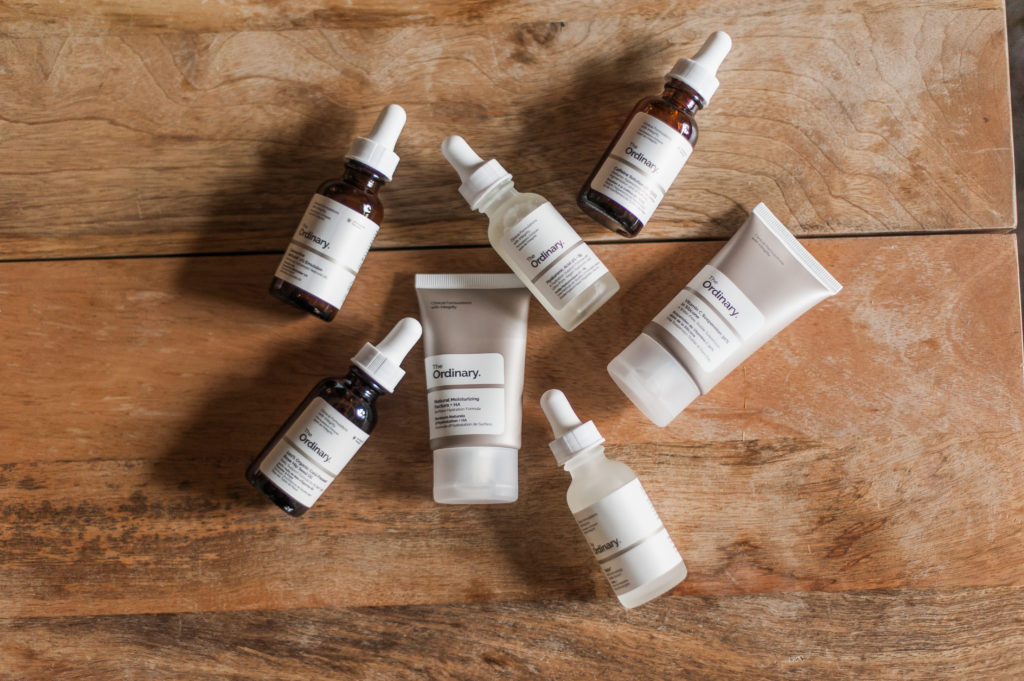 You guys, this stuff is SO GOOD. Whatever your skin type and whatever skin woes you have, The Ordinary has a product (or entire skincare regime!) for you. My skin tends to be dry and sensitive, so I have been loving the hyaluronic acid, rose hip oil, and Vitamin C serum. My boyfriend, who has oilier skin, has been digging the salicylic acid and caffeine serum (<< I steal his for those days when the under eye bags are out in full force!). The products are simple and help you streamline your routine by figuring out exactly what ingredients you need for you skin type.
Their motto – "clinical formulas with integrity" – is so spot on. These products aren't messing around. Learn more about and shop some of my favorite products from the line below!
Best Products From The Ordinary Skincare Line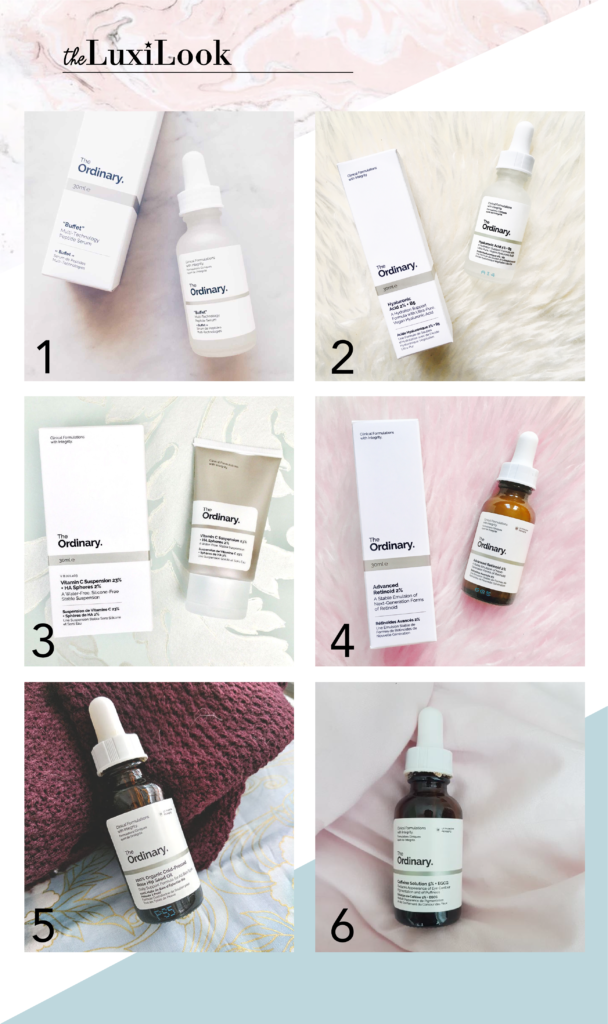 1. Buffet – a combination of ingredients for maximum anti-aging benefits.
2. Hyaluronic Acid – hyaluronic acid is one of the best ingredients you can use for moisture and dry skin. Read more about hyaluronic acid here.
3. Vitamin C – such an important ingredient for brightening and maintaining youthful skin. They have different varieties of Vitamin C products with varying concentration levels. This is super helpful if you have dark spots or pigmentation from the sun.
4. Retinoid – I'm working on a full post on retinol and retinoid right now, but they're some of the best anti-aging ingredients available. I've been doing a lot of research on it and most skincare experts tend to agree that your early or mid-twenties is a good time to start adding this to your skincare routine! Essentially it helps your skin cells turn over more quickly (as we age, our skin cells begin to turn over more slowly, leading to wrinkles) and promotes new cell growth underneath.
5. Rose Hip Oil – I love rose hip oil so much and really appreciate The Ordinary for coming out with a pure and powerful version that is affordable. This one I'll be replacing on the regular! I use it all over my face and parts of my body that need a little extra moisture and it is the best!
6. Caffeine Solution – does for your under eye bags what a cup of coffee does for your energy level – amazing.
The Ordinary has quickly become one of my favorite skincare lines – and for good reason. If you're on the fence, I definitely recommend checking out the website to find the products that will work best for your skin type. And with prices in line with your local drugstore, what's not to love?