An Honest Glossier Review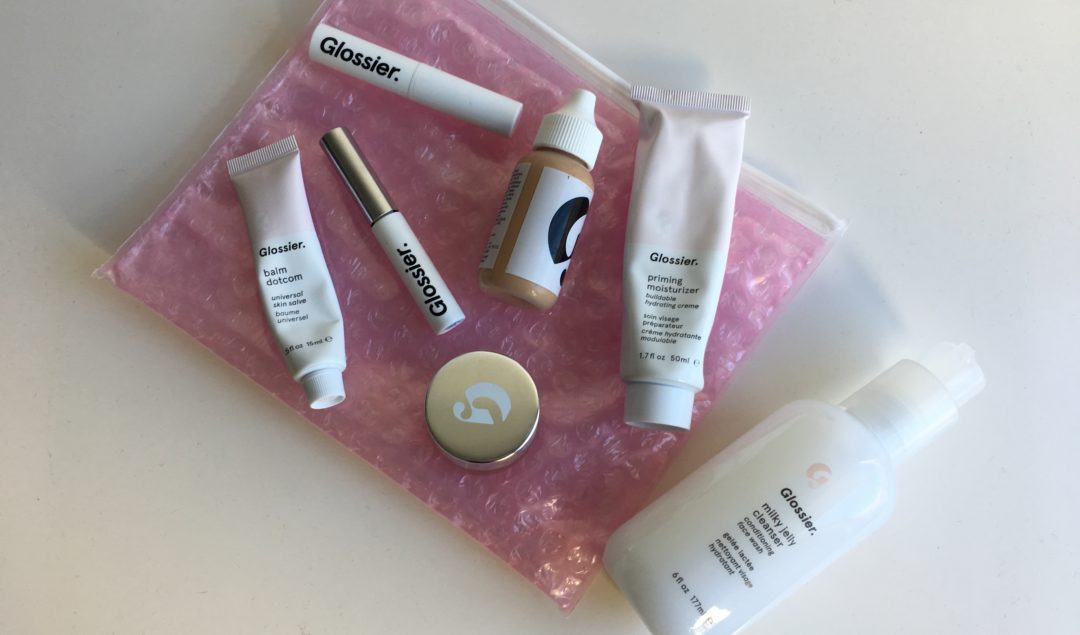 As a longtime reader of Into the Gloss (top shelf fan for life!), I was ecstatic when they launched their in-house line of beauty products, Glossier. I only recently purchased Phase 1 and Phase 2 for myself (I know, totally late to the party), but I'm excited because I feel 100% ready to give an honest Glossier review. I'm a super loyal Sephora customer (embarrassed to admit I'm VIB Rouge) and always like to try on beauty products before buying, but I made an exception to the rule for Glossier. Maybe it was the marketing or the super cute packaging, but I knew I had to try it for myself. One thing I noticed when doing research prior to purchasing, was how hard it was to find honest reviews. Bloggers and YouTubers alike seemed to give complimentary reviews, but the actual site doesn't have a section for customer reviews.
After a month of using their products, I thought I'd do my own HONEST Glossier review of the products and have you see for yourself if the products are worth purchasing.
[ FYI – this post isn't sponsored in any way. ]
[ TL ; DR – overall, Glossier products are mostly hits for me. My faves are the boy brow, milky jelly cleanser, haloscope, and priming moisturizer rich. If you're interested in trying any of the products out, here's my link for 10% off your first order. ]
Glossier's motto is skin first, makeup second. Phase 1 consists of 4 makeup products that get your skin ready for makeup (or no makeup at all, if you're blessed enough to go without wearing any!)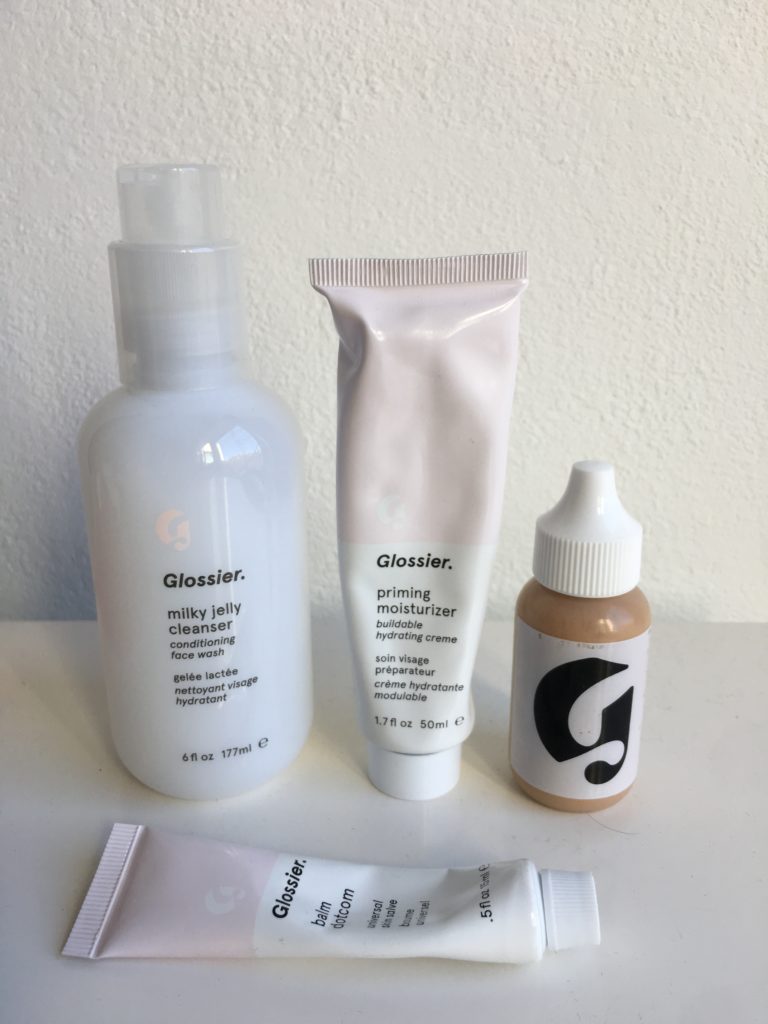 Milky Jelly Cleanser – probably my favorite product in the Phase 1 set. I love the jelly like consistency/texture and the subtle rose scent. I've somewhat sensitive skin and it is able to remove all traces of makeup without any irritation. I have several cleansers I love and use already, but this one will definitely be a permanent player in my rotation.
Update: this bottle has lasted me almost 6 months and even though I still have a bit left at the bottom, I already repurchased a replacement. I use it after the gym and before going to bed, if I need a little extra punch for my skin I add a powder exfoliant.
Priming Moisturizer – I think this moisturizer is a nice compliment to the cleanser. It isn't really thick or moisturizing enough for nighttime or when my skin needs an extra boost, but I like it for daytime and I feel like it has made my skin softer and plumper. If I apply makeup on top, it seems to go on smoother as well. Thumbs up for this product.
Balm Dotcom – honestly, I'm not sure how much better this is than using vaseline or Aquaphor, but I do really like it. I'm sure I would love the coconut version even more. It's a solid lip balm but for the price, I'll probably stick to my usual drugstore balm.
Perfecting Skin Tint – probably the thinnest foundation I own, way more watery than any tinted moisturizer. I use the shade "dark" and don't see too much of a difference in my skin when I use it, but I think if you layer it on it does smooth out minor imperfections. If you're looking for a smoother and more flawless coverage, I would pass on this.
After you've primed your skin with phase 1, it's time for phase 2. In general, Glossier products are for the makeup minimalist. They may not be the best if you're going for a more full on glam face, but if you're looking for a "I woke up like this" natural look, they might become your new favorite products.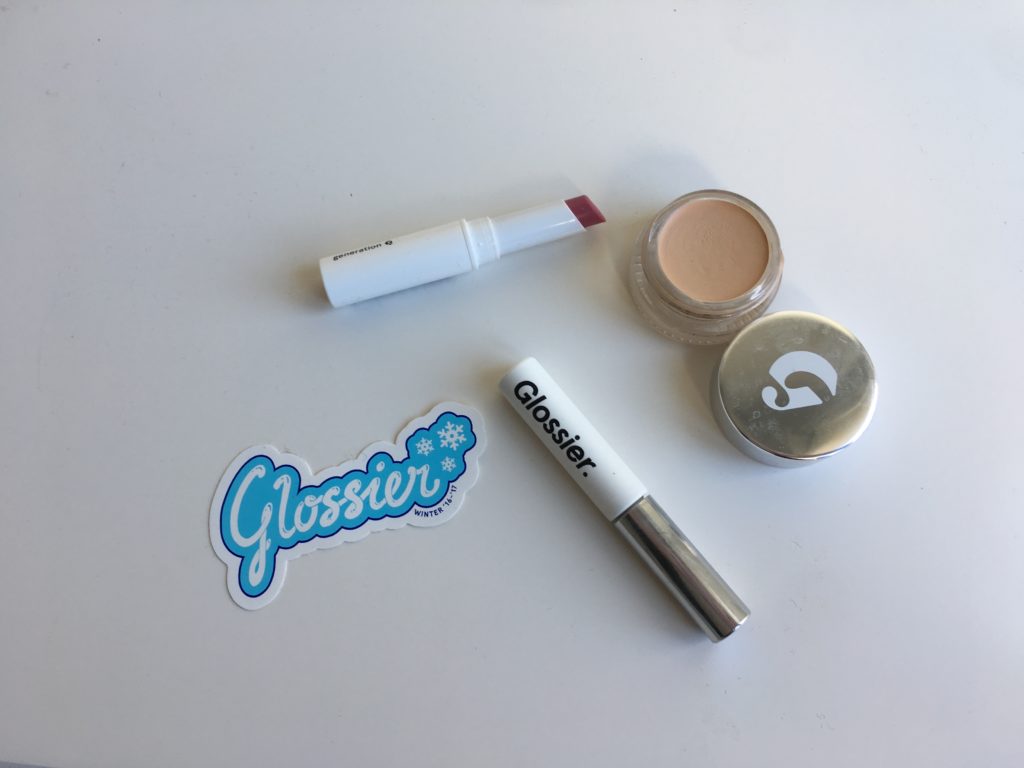 Boy Brow – this stuff is gold. My new go to brow product. I use the shade "brown" even though I have very dark brows. This is by far the best brow mascara I've ever tried. I want to hoard this stuff in case it ever gets discontinued, which I don't see happening because everyone seems to love it. It fluffs up and thickens your brows and keeps them in place all. day. long. (Update: I'm on my 5th tube and still loving it).
Stretch Concealer – not the biggest fan of concealer but this formula is extremely buildable and doesn't seem to crease as the day goes on. I got it in shade "medium" but wish I had purchased in a darker shade. It functions as a bit of a highlighter since the shade is slightly lighter than I would prefer for my undereyes.
Generation G – probably the only miss out of all the products I tested. The tube seems small for the price, the product is somewhat drying, and the shade I purchased, "Like" is meant to be a "your lips but better" shade when in reality it doesn't show up much unless I use several layers. Maybe fairer skinned girls will have better luck? I will try out the other shades as well and report back.
After testing out the entirety of Phase 1 and Phase 2, I can say that there are a few items that will become permanent standbys in my beauty lineup. My favorites by far are the milky jelly cleanser and the boy brow (as beauty bloggers say, "holy grail status"), I do love the priming moisturizer as well. For real though, in this 100% honest Glossier review the rest of the products get a solid thumbs up as well, but if you're not looking to buy the full sets, I recommend the milky jelly cleanser and boy brow above all.
Update: since I wrote my original review, Glossier has launched several new products and I've also scooped up some of the other products I hadn't tried yet.
Priming Moisturizer Rich – shortly after I wrote this blog post, Glossier launched its Priming Moisturizer "Rich" formula. Since I have drier skin I purchased it instantly and it's one of the better Glossier products IMO. Really love how moisturizing it is and I haven't had any issues with it on my dry/sensitive skin. I really think it's a great moisturizer for the price and will be repurchasing.
Sunscreen – the launch of Invisible Shield SPF 35 came just in time for summer (although you really should wear sunscreen year round!). Unfortunately it didn't quite work with my skin, the jelly consistency and scent seemed to irritate my face. If you're an SPF newbie it's worth trying out but I feel like for the price (it's only a 1 oz. bottle) there are equally good if not better sunscreens out there. I'm going to give it another shot and will let you know if the results are any better.
Haloscope – didn't expect to love this nearly as much as I do. If you're going from that "lit from within glow" this product delivers! I love how easy this product is to apply. If you brush it along your skin it doesn't go on too heavy and all you need is a finger to blend. It's basically foolproof, easy to layer if you want a little more glow, and super subtle. Some might say too subtle, but I say nay! I've fooled all of my coworkers and friends with this highlighter. I even stopped using my beloved Becca. Which now looks TOO shimmery compared to Glossier's version. I have all three shades but have yet to find the best purpose for TOPAZ (bronze-y shade that I expected to love). I alternate between Quartz and Moonstone for everyday and I just absolutely love them.
Needless to say, I've been converted and I'm now a devoted Glossier fan. I make it a point to try every new product when they launch and continue to repurchase my favorites. Glossier gets a solid YES! from me any day.
COMING SOON: my honest reviews for Glossier's Wowder, Body Hero Duo, and Cloud Paint.
xx, Amy
PS: here's 10% off your first order : )
For more beauty posts see: What happened when I removed my eyelash extensions & why you should brush your lips.