Holiday Gift Guide for Her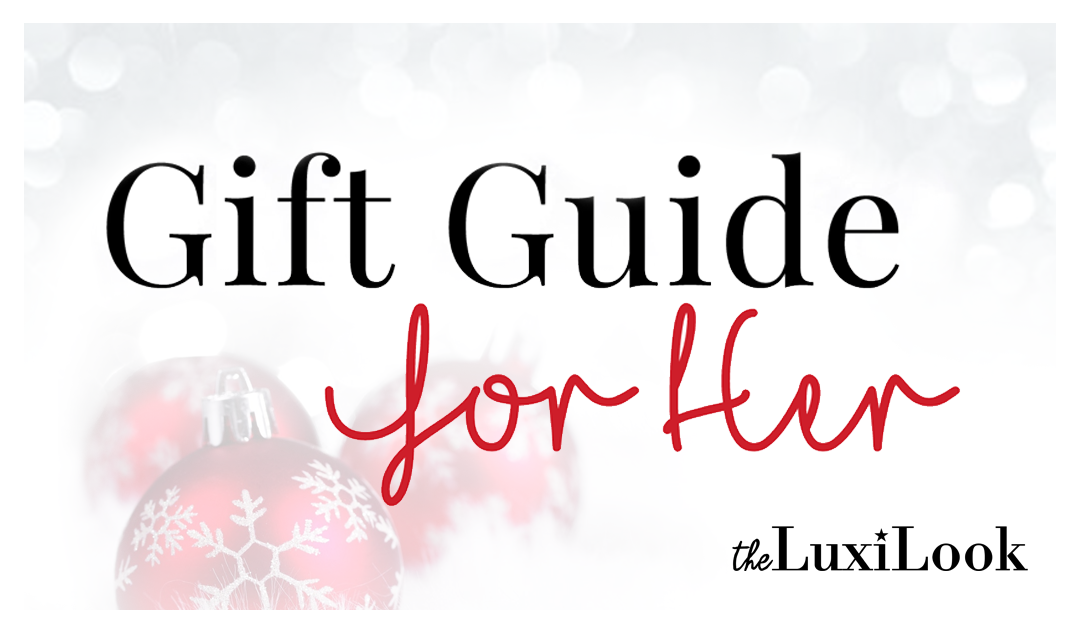 It's never too early to get a start on holiday shopping! I'll be doing curated gift guides over the next few weeks, but I wanted to start with a more general gift guide for her. I love giving gifts, more so than receiving them, but sometimes finding the perfect gift can be hard. These are some of my favorite products that I love to gift my family and friends – seriously real crowd pleasers! You can't go wrong with anything on this list and you'll be sure to find something for the girls in your life. These gifts are perfect for your mom, sister, girlfriend, best friend… happy shopping babes!
Holiday Gift Guide for Her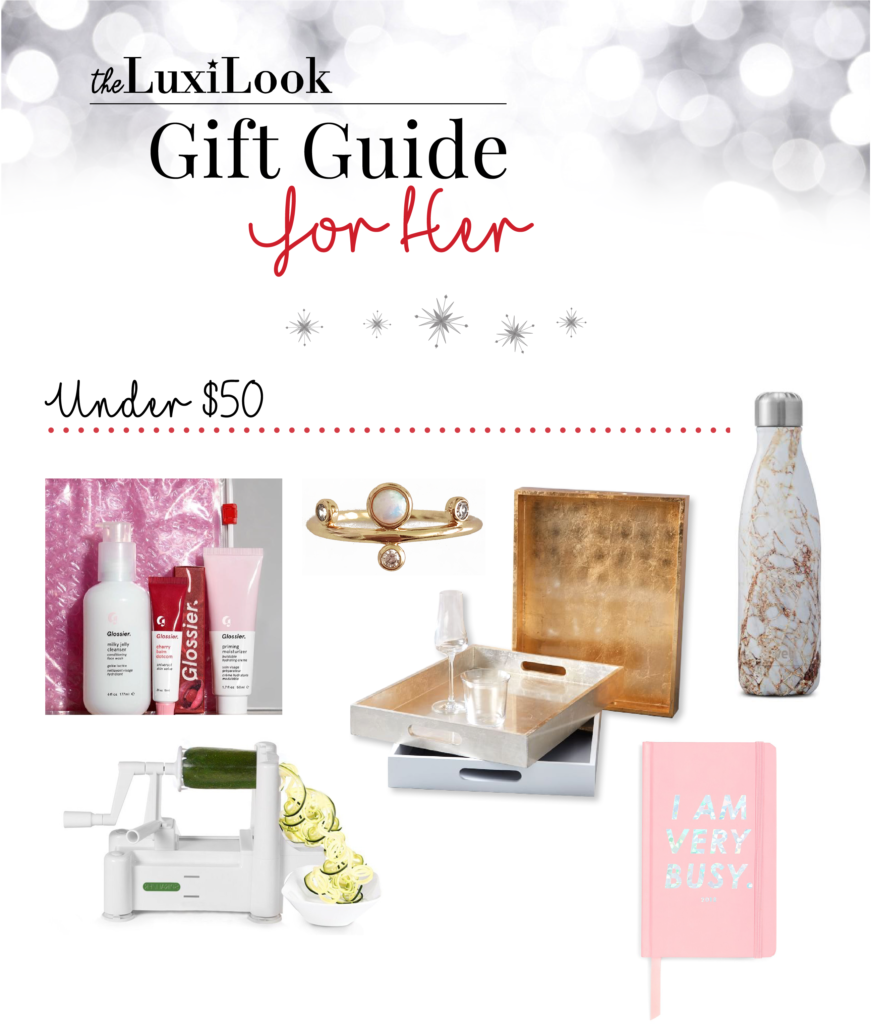 Under $50

Glossier Phase 1 Set: for $40 you get some of my favorite Glossier products – the Milky Jelly Cleanser, Priming Moisturizer, and Balm Dotcom. You can't go wrong with gifting one of their sets (Phase 1 or Phase 2) to any beauty lover.
Elizabeth Stone Jewelry: Elizabeth's gold + colorful stone pieces are always a crowd-pleaser. Jewelry style can vary from person to person, but you can never go wrong with simple pieces such as delicate rings, chokers, or hoops – all of which are made with a fun twist (druzy, opal, moonstone, etc.).
Metallic Lacquer Tray: these trays are perfect for adding a small decorative touch to any room. I have these on my dresser, on my coffee table, in the bathroom – and come in a variety of shapes, sizes, and colors so you're bound to find one for everyone.
Swell Water Bottle: not only are you gifting something environmentally friendly, Swell bottles also happen to be really, really cute. You can never have too many reusable water bottles either – these make great gifts and stock stuffers!
Planner: because new year, new you – and what better way than to help your girlfriend get organized for 2018?
Spiralizer: even if you aren't the biggest cook, I cannot rave enough about how wonderful spiralizers are (and they're very inexpensive!) – gift this to your health nut/foodie friend and she will adore you (and invite you over to eat zucchini noodles for dinner).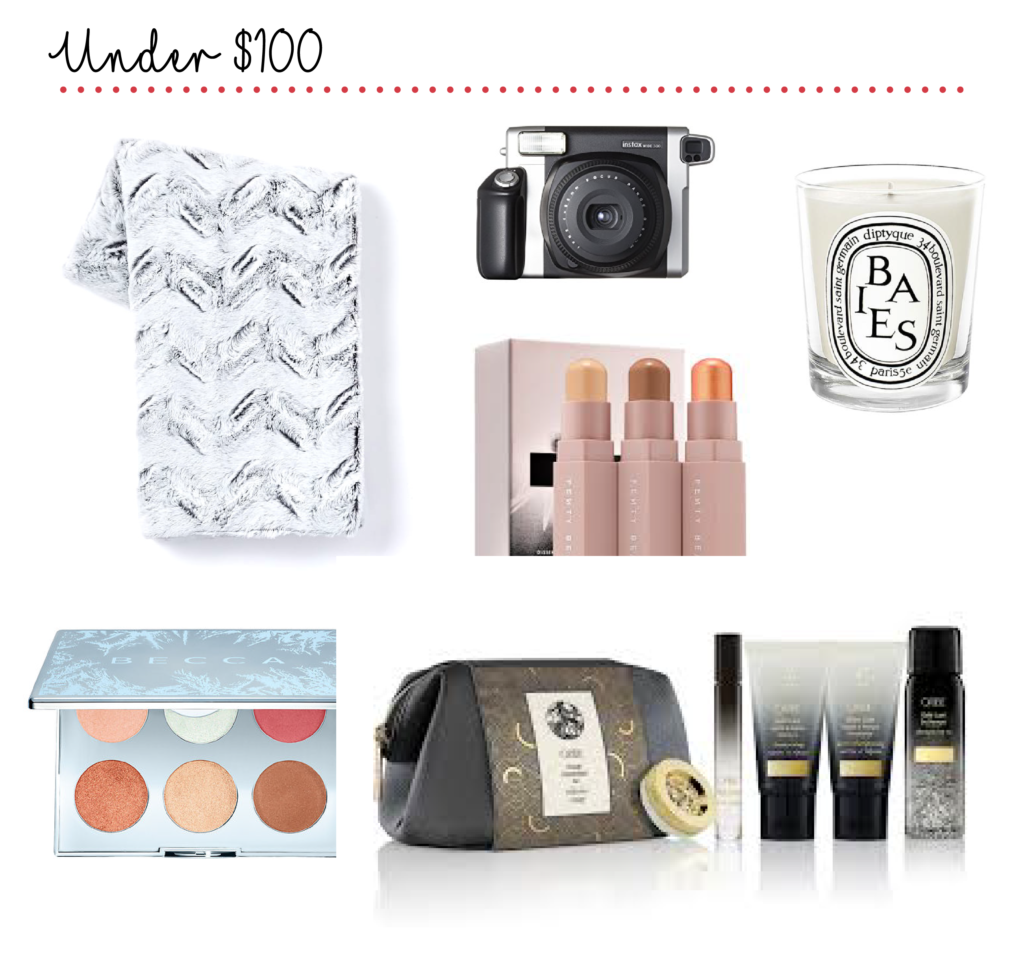 Under $100

Faux Fur Throw: cozy, soft, and neutral so it won't clash with her decor, a comfortable throw blanket is a must for any home!
Fujifilm Instax Instant Camera: a fun throwback she's sure to love.
Fenty Beauty Set: for your beauty loving friends – Rihanna's new Fenty Beauty line is (not so) surprisingly incredible. The packaging is minimal but the products pack a punch. Gift this highlighting set for an easy gift for the beauty guru in your life.
Becca Cosmetics Palette: I love Becca Highlighters (Champagne Pop for life!) but there's something about gifting a palette that just feels more substantial and wow-worthy. This palette is absolutely GORGEOUS and is sure to be used, not returned.
Diptyque Candle: because who doesn't love a good bougie candle? You can't go wrong with Diptyque.
Oribe Travel Set: travel sized goodies of some of the best hair products on the market for your jetsetting friend, because she deserves it.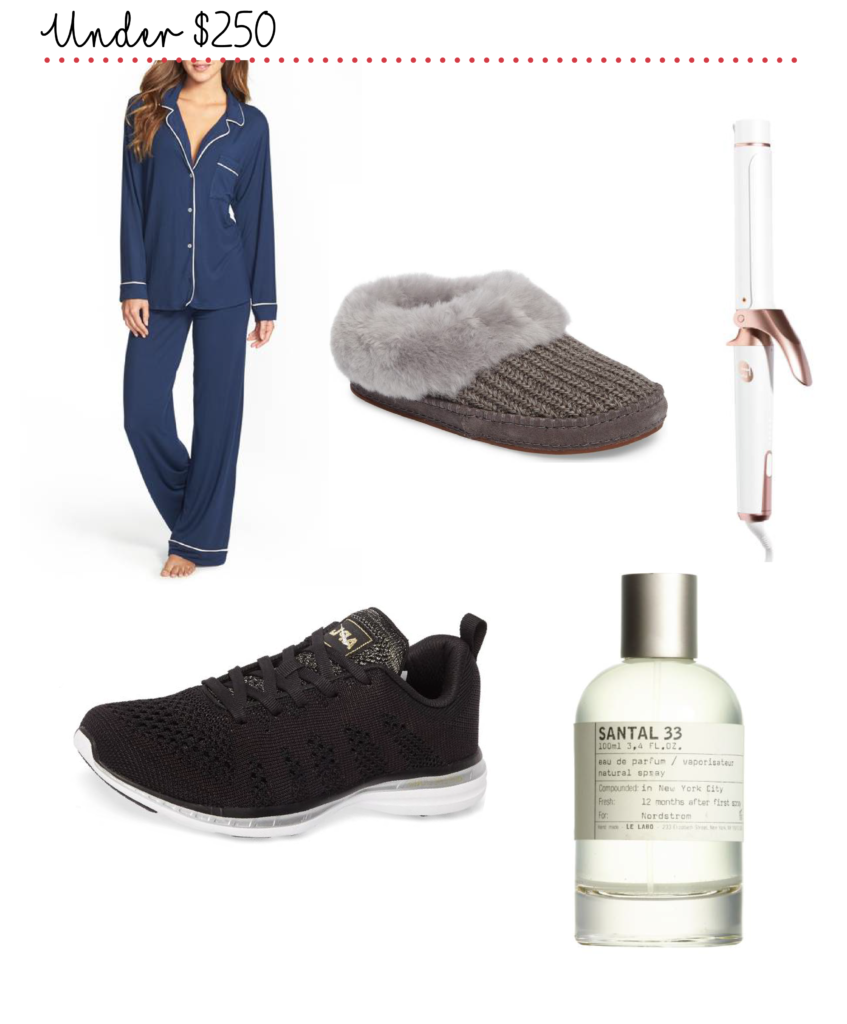 Under $250

Eberjey Pajama Set: these pajamas are so cozy, not to mention there's something very adult about having matching pajamas!
UGG Slippers: warm and comfortable, perfect for running a quick errand or just lounging around the house. A luxe gift she probably wouldn't think to get for herself.
T3 Curling Wand: love this convertible wand and all of the different barrel options you can purchase to customize your curls. The rose gold is pretty too ; ).
APL Sneakers: wear these to workout, or not. They look just as good on the street as they do in the gym, and happen to be comfortable and work hard in almost every type of training. Love the variety of colors they come in as well.
Le Labo Perfume: unique, intoxicating scents – Santal 33 is a classic, but the other scents in the line are worth trying as well.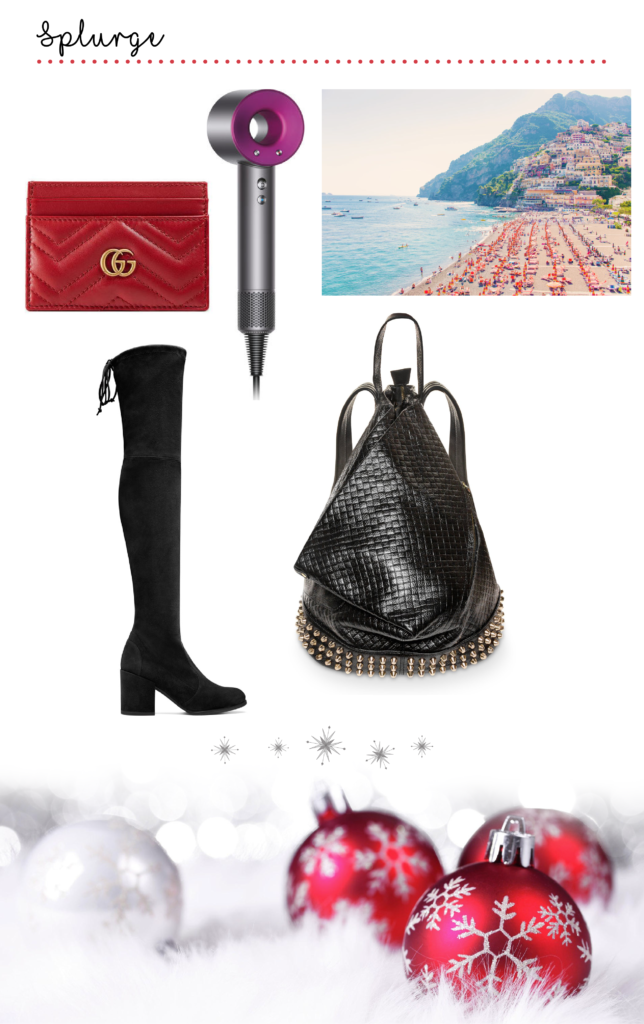 Splurge

Gucci Card Case: so much more convenient than a large, clunky wallet. A card case is ideal for everyday use and for carrying just the essentials. One from Gucci is chic enough to carry on its own.
Dyson Hair Dryer: the nicest hair dryer you will ever use. Definitely a splurge, but so, so worth it if you blow dry your hair every day.
Gray Malin Prints: Gray's prints are showstoppers – they brighten up any room and take you someplace far, far away. You'll be ready for your next vacation instantly.
Stuart Weitzman OTK Boots: classic, high-quality boots that are worth the price and will last you for years and years to come. An investment, but unlike a pair of heels, you'll wear them all the time.
Sticks + Stones Backpack: one of my favorite bags of the year – it's unique, beautiful, and holds up incredibly well. Not to mention it's perfect for traveling, being on the go, or just carrying around day to day.
Pin It!

SaveSave