If you know me, you know I love a good fitness class. But the fact is, I simply don't always have time to get ready and go to an hour long class – and you probably don't either. And though any length of workout is absoltuely better than nothing, there are times when I want the most bang for my buck. A result-based workout that can be done quickly, for busy weeknights or when traveling. I'm a HUGE fan of interval training. I have found nothing gets me results faster than incorporating intervals into my fitness routine. As someone who used to run long distances regularly, intervals have been a godsend. No more hour long sessions on the cardio machine at the gym for this girl!
HIIT is a good example of that, and after taking classes regularly at Barry's Bootcamp, I wanted to talk more about intervals. Interval training in general usually means you're getting a great workout, and is why successful gyms like Barry's are advocating for it. They're definitely onto something worth sharing.
What are intervals?
To sum it up, intervals are working at different paces & intensities for a set amount of time, over and over. Working out in intervals keeps your body from feeling "comfortable" during your workout. When you disrupt it every minute or so to pick up or slow down your pace, you end up burning more calories and strengthening your heart, among other things.
Who should do intervals?
Anyone and everyone, though it'll look different for each person. Intense intervals are something you build up to after spending a few months getting in shape. If you're a newbie, find the variables that work for you (maybe you're jogging instead of running – more on this below). Don't push yourself too hard. Definitely don't get down on yourself if your intervals don't look like the person next to you. Believe me, I wasn't nearly as strong as a lot of people at Barry's, but I still felt great after each workout (and kinda dead, in a good way). You'll get to where you want to be after consistently doing intervals a few times a week. Some benefits of interval training: better endurance for long runs, other cardio workouts, improved cardiovascular health, more calories burned, and the biggest one for me – losing belly fat! 
How do I incorporate intervals into my workout?
One of the most common ways to incorporate interval training into your everyday workout is to hop on the treadmill. I definitely understand the treadmill can be a bore, but stay with me here, it's worth it! And yes, you can totally do intervals off a treadmill, but personally, I appreciate the effectiveness that a treadmill provides (a time clock, ways to monitor speed, stay efficient, etc.).
When you're ready to take your workout to the next level, start adding in intervals by varying your speed on the treadmill. Make sure to get completely warmed up at a slow pace before you begin to increase your speed (avoid those injuries!) and then determine what your "fast" pace will be and what your "base" pace will be. Test your speeds and find out what works best for you!
Adding incline
If you feel ready to kick your workout up even more, consider adding an incline to your intervals. Don't be intimidated – you don't have to run at 6 mph while running uphill (unless you're into that). You're actually going to keep the speed the same on this one. Instead of changing the speed every other minute, you'll increase and decrease your incline – simple! Doing this will definitely intensify your workout and burn even more calories. It'll also make your heart and body stronger too.
Easy Treadmill Interval Workouts You Can Do
Luckily, I was able to steal a couple treadmill workouts from Justine Cuenco (follow her on Instagram @cococuenco) – if you look at her page you'll see she is a total boss and a huge fitness buff. The girl's dedication to fitness and working out is super admirable. So I had to get her custom "Coco Run" and try it out for myself. See below for three examples of interval workouts you can try on the treadmill.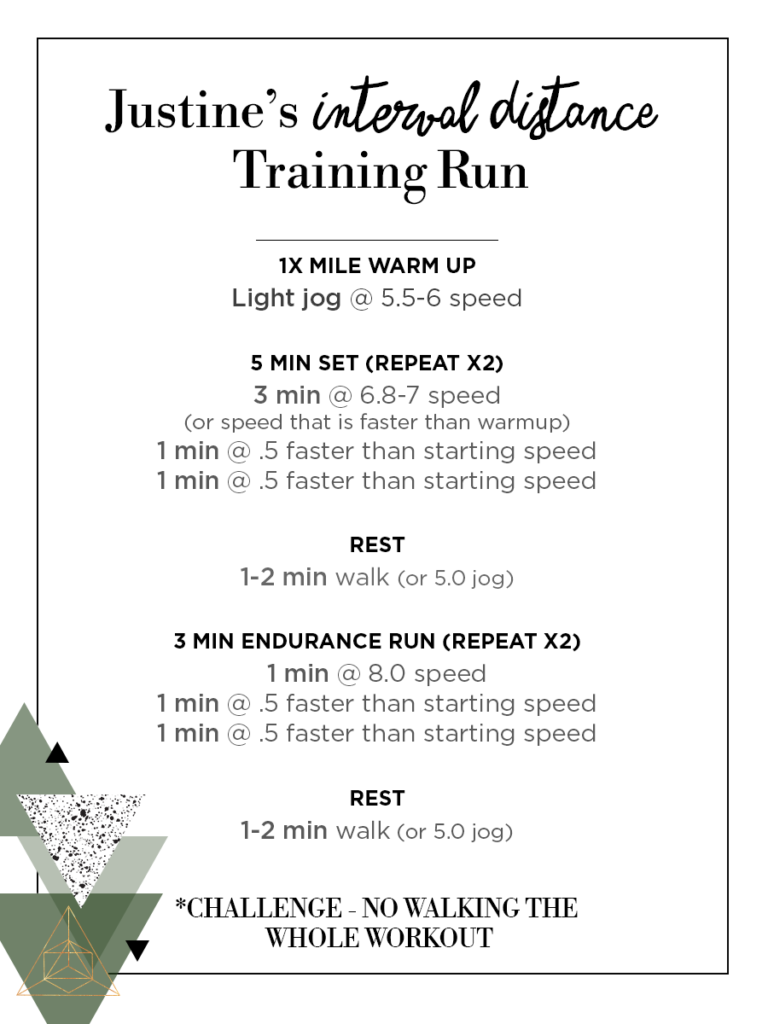 This run should take you to 4 miles, which is perfect if you're training for a race! If you're looking for something a little more quick or dirty, try some hill or speed intervals.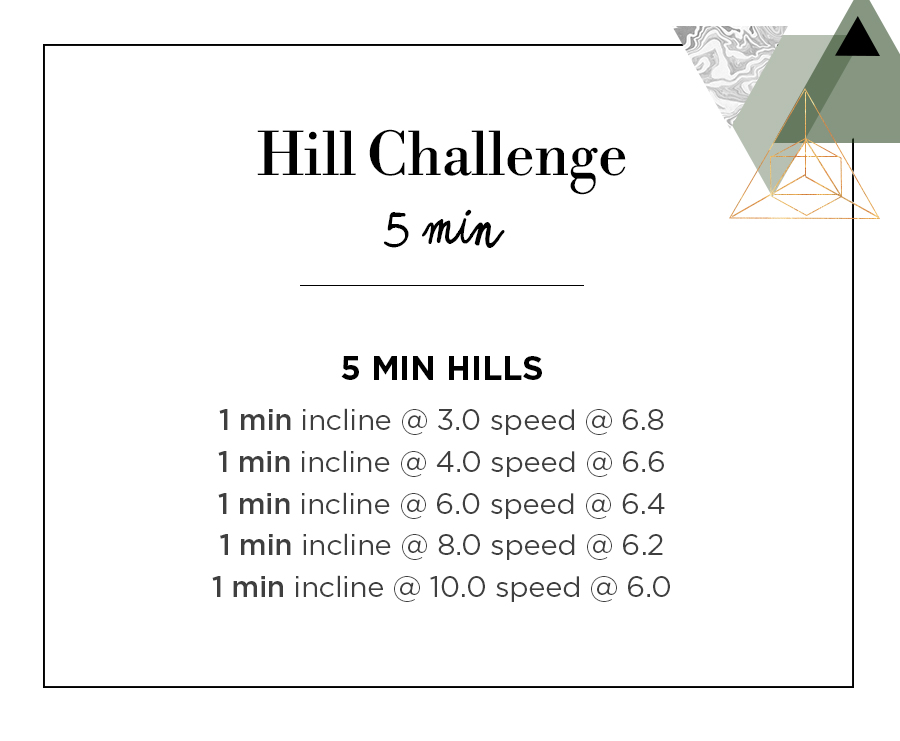 Repeat 2-3 times for a KILLER workout.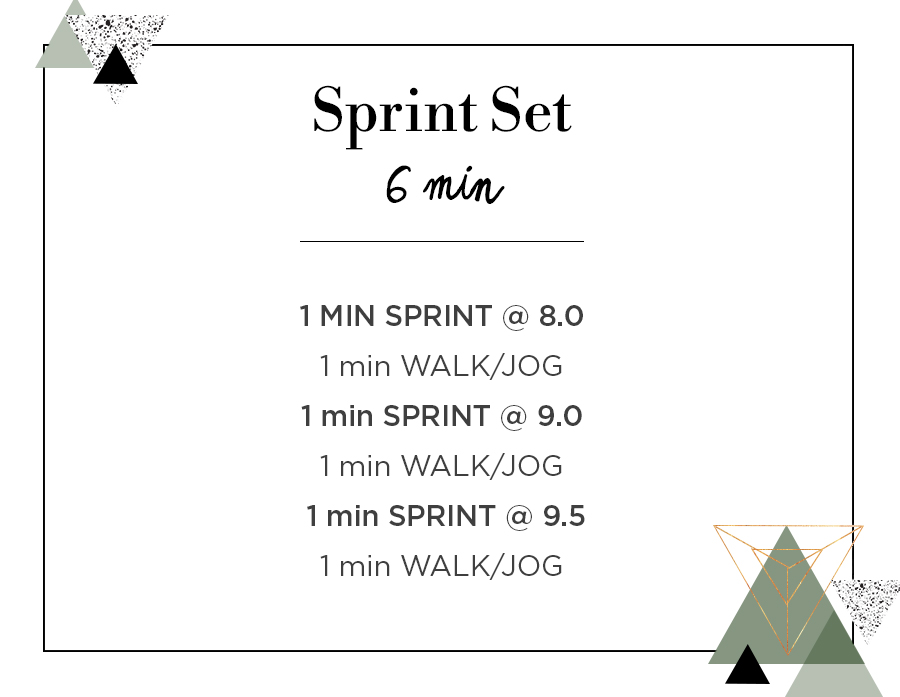 I used to hate, hate, HATE sprints, but now I love them! Love getting my cardio done for the day. Repeat this set at least twice for best results.
If you're ready to start doing intervals right away, here is some edgy workout clothes I am absolutely loving right now too!
xx, Amy